If you're looking for a place where the cares of the world seem to have slipped away, the Caribbean might be your perfect holiday destination.
The best Caribbean islands for families are rich in culture and bursting with natural beauty. There are many adventures, relaxation, and learning experiences among the islands.
Here are the top five Caribbean islands you can enjoy with your family.
1. Island of Barbados
According to a report, in 2019, the tourism revenue in the Caribbean amounted to roughly $34.6 billion,
One of the world's top surfing destinations, "The Rock" is an ideal Caribbean island for families who love water sports. It offers crystal-clear waters in massive waves, perfect for surfing and SUPing. 
The island also has several scenic beaches, including the famous Crane Beach.
The relaxed island life is the perfect setting for enjoying time together as a family and participating in fun activities, such as mountain biking around Barbados' plantations during a guided bicycle tour.
The top attractions here include the historic Garrison Savannah, beautiful nature trails, and the iconic landmark of Harrison's Cave.
2. Island of Grenada
Offering plenty of opportunities to enjoy nature together, Grenada has many family-friendly resorts equipped with kid-friendly facilities.
According to a report, the Caribbean welcomed more than 25 million foreign visitor arrivals in 2019.
Grenada is one of the most biodiverse islands of the Caribbean Basin, with lush tropical rainforests and dramatic coastlines.
The island's rich history is displayed in places like the World Heritage Site of St George's Town, the colonial Fort George, and Fort Frederick.
The extensive Grand Etang National Park and Forest Reserve is home to rare wildlife species like the Grenada dove. Adventure-seekers can enjoy hiking, horse riding trails, and even crocodile spotting tours.
Visitors can also experience traditional music at Spiceland Art & Nature Park or catch live performances by the world-famous local musicians at the famous Grenada Carnival.
3. Island of St Kitts
St Kitts is one of the best Caribbean islands for families that offers plenty of fun activities for all family members. There are many kid-friendly resorts where families can relax and enjoy their time together.
During your trip, you can explore the plant life and birdlife on a guided tour, visit Brimstone Hill Fortress or enjoy a picnic on Pinney's Beach.
St Kitts offers several guided tours by experts from the Forestry Division for families who love nature. The island is also home to world-famous rum distilleries where visitors can learn about the history of making rum and the art of tasting fine rums.
4. Island of Saint Lucia
Saint Lucia is one of the most beautiful islands in the Caribbean, rich in culture with many attractions to enjoy together as a family. The island offers beautiful beaches suitable for every kind of water sport imaginable.
The island is also home to unique natural attractions. A hike through the rainforest canopy on the famous Gros Piton Trail allows you to enjoy views of spectacular waterfalls, wild orchids, and exotic birds.
For kids who are always excited by new experiences, a visit to local chocolate factories will allow them to learn about the process of making fine chocolate and taste delectable cocoa-infused treats.
5. Island of Saint Vincent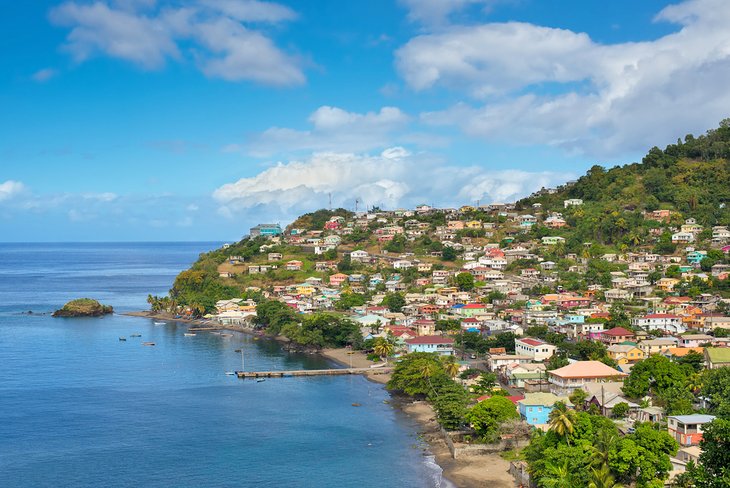 Image soure: planetware.com
Based on reports, during the third quarter of 2021, there were 5.4 million tourist arrivals to Caribbean Islands, almost three times the arrivals for the same period in 2020.
Saint Vincent is a beautiful island that offers rich nature experiences where families can have fun together. Several family-friendly resorts offer kid-friendly activities, such as horse riding, kayaking tours, and ocean boat rides.
The Blue Lagoon Park offers a fun day of family-friendly activities, including visiting the underwater viewing tunnel to see sea turtles, rays, and sharks or going on a guided hike through misty rain forests.
A visit to the inviting Store Bay Beach allows you to enjoy a picnic lunch while enjoying beautiful views of the Pitons.
The island's rich history is reflected in places like Fort Charlotte, built-in 1769. It overlooks beautiful Charlestown Bay, where visitors can enjoy a breathtaking view from the top of Lookout Hill.