Ladies, are you ready to turn heads this season? The backless dress trend is making a big comeback and we're here for it! If you're unsure how to rock the look, don't worry – we've got you covered.
In this post, we'll show you all the tips and tricks on how to style the backless dress trend so that you can feel confident and take on any occasion with ease. Get ready for some seriously chic inspo because it's time to elevate your wardrobe game!
Different Ways To Style A Backless Dress
A backless dress is a versatile piece that can be styled in many ways. Whether you're looking for a sophisticated look for a night out or a more casual look for a day spent exploring, there's a way to style a backless dress to suit your needs.
For a chic and sophisticated look, pair your backless dress with some heels and statement jewelry. This is the perfect look for a night out on the town or a special event. To keep things looking balanced, make sure that your heels aren't too high and that your jewelry isn't too heavy or overpowering. A classic little black backless dress is always a good choice for this style.
If you're looking for something more casual, you can still rock a backless dress. Just pair it with some flats or sneakers and leave the statement jewelry at home. This is the perfect look for exploring a new city or spending time outdoors. A brightly colored backless dress will stand out against the backdrop of nature.
No matter what your plans are, there's a way to style a backless dress to suit your needs. With so many different ways to wear this trend, it's easy to find the perfect look for any occasion.
What Type Of Backless Dress Is Best For Your Body Type?
There are a few different types of backless dresses, and each looks best on a different body type. 
If you have a small chest, look for a backless dress with a plunging neckline to show off some cleavage. 

If you have a large chest, go for a backless dress with straps or an empire waist to help support your bust. 

For a pear-shaped figure, look for a backless dress that hits above the knee to show off your slim legs. 

And for an hourglass figure, any type of backless dress will look great as it will accentuate your curves.
How To Accessorize A Backless Dress
Whether you're going for a glamorous look or something more laid-back, there are plenty of ways to accessorize a backless dress. 
For a chic and elegant outfit, try pairing your dress with some statement jewelry, like a choker necklace or some dangly earrings. 

If you're going for a more casual look, try layering a denim jacket or cardigan over your dress. 

And don't forget about shoes! Heels will dress up any outfit, while flats or sandals will keep it more relaxed.
Tips For Wearing A Backless Dress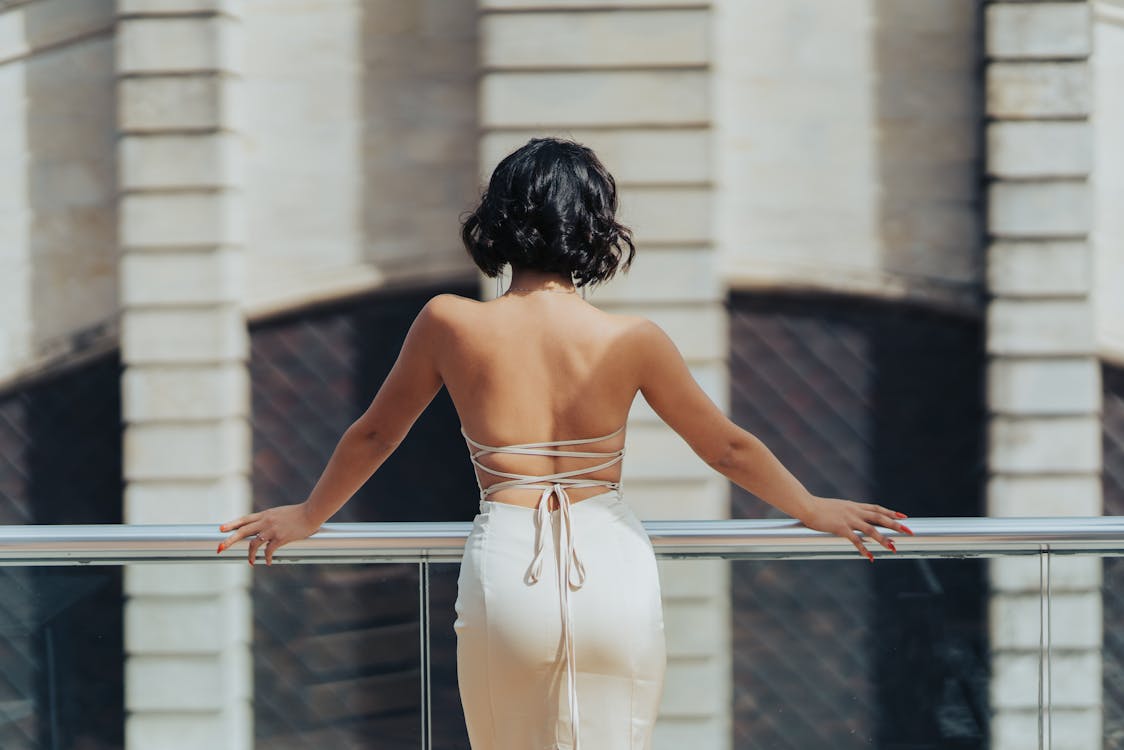 A backless dress is a great way to show off your shoulders and back. Here are some tips for wearing a backless dress:
Choose a dress that fits well. A backless dress should fit snugly on the body so that it does not slip down.

Pick a dress with straps or a halter neckline for extra support.

Wear a nude bra or adhesive cups to ensure that your chest is covered.

Avoid wearing loose clothing over the top of your backless dress as it can cause the dress to slip down.

If you are worried about the dress slipping, you can always sew in some elastic around the top edge of the dress. This will help keep the dress in place.
Conclusion
With the backless dress trend continuing to be popular, it's important to know how to showcase this look tastefully and stylishly. We hope that this article has given you some useful information on how to style a backless dress in order to make the most of your wardrobe!
Whether you choose a bold statement piece or something classic, keep these tips in mind when putting together your next outfit. So go ahead and embrace the backless dress trend – you're sure to look fabulous!