Recently updated on October 25th, 2022 at 11:15 am
Bathroom remodelling ideas are not all that easy to implement when you are trying to add elegance to your bathroom on a budget. Sure you can get free delivery on bathroom equipment from Victoria Plum. But do you know which pieces of equipment to get to add a bit of refinement and sophistication to your bathroom? Always make sure that your bathroom has the proper lighting and exhaust systems before investing in any remodelling efforts. 
Let's look at some bathroom remodelling suggestions from architectural experts. 
1. Add An Elegant Bathtub
Bathtubs have become increasingly popular in the last few years. Choosing the right bathtub will help you create a comfortable spa-like experience so you can relax and unwind at the end of the day. Make sure you know how much you want to spend on a bathtub in advance. Chalk in an extra 10% on that number just in case you want to go all out. 
Avoid choosing a bathtub design that looks impressive but is not practical with the functionality of the bathroom. A corner bathtub might be a more comfortable and practical option, especially for larger families. Although acrylic bathtubs weigh the same as fibreglass bathtubs, acrylic bathtubs are much more resistant to heavy impacts and chipping. Consider purchasing a cast iron bathtub if you are looking for a durable, sturdy, and mid-price range bathtub that can hold heat well in the winters. 
2. Include A Glass-Enclosed, Walk-In Shower
A glass-enclosed walk-in shower is a necessary addition because it is much more practical and functional. People often overlook the designs available for walk-in showers because they already have an elegant bathtub. Your walk-in shower experience will be much more valuable in the mornings when you do not have much time for a bath. Consider the comfort and safety of the walk-in shower before finalizing any design. 
You can choose a walk-in shower without a lip if you are concerned about tripping. It is recommended to install a showerhead that is both comfortable, luxurious and easy to use. Avoid installing a showerhead that is inordinately complicated to use. You want the walk-in shower to be resourceful but practical as well when you don't have much time. 
3. Conceal The Commode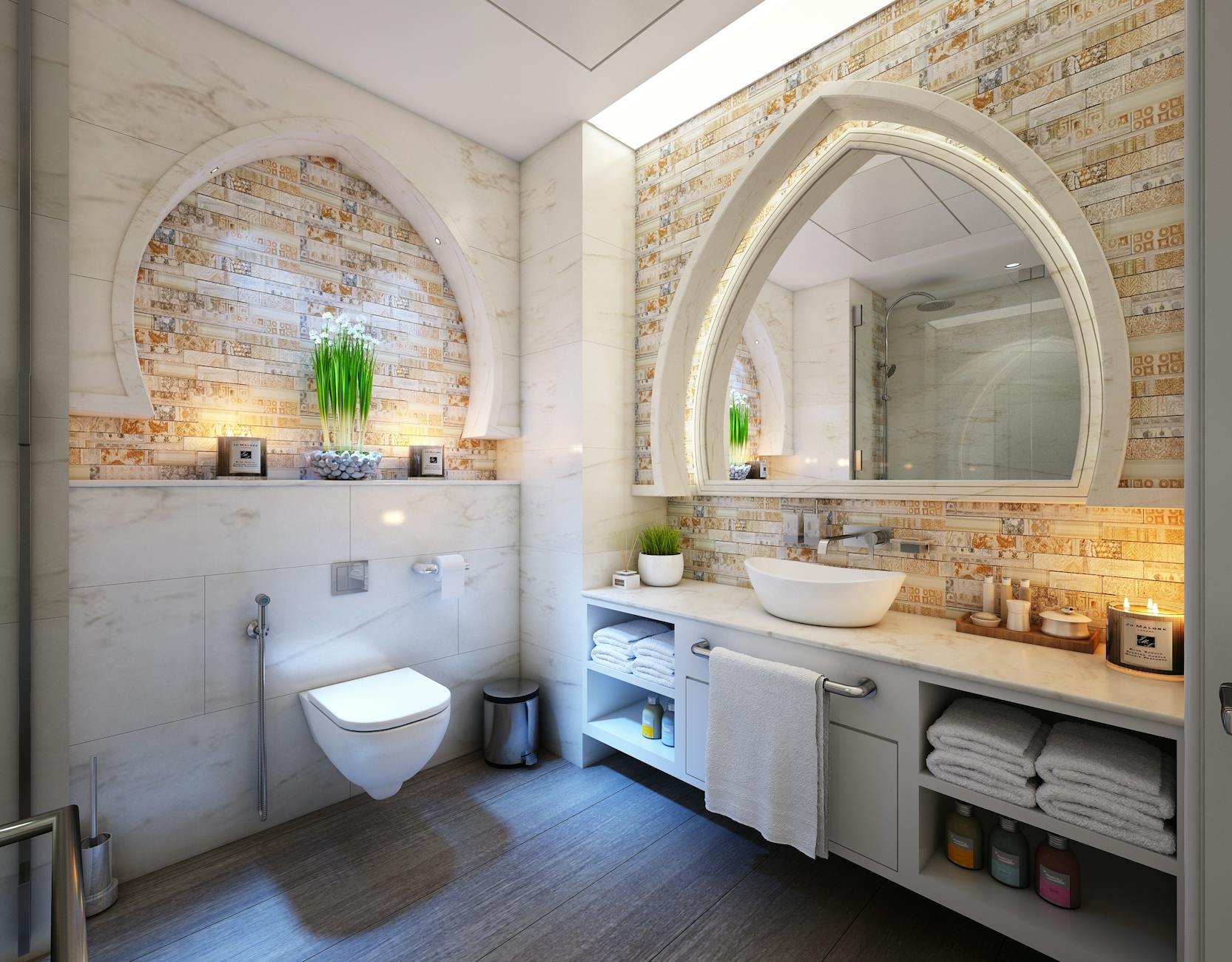 Modern toilet designs have come a long way from the traditional bathroom layout. In the old days, it was alright to have the commode in a place that was instantly visible as you entered the bathroom. Nowadays, not a lot of people enjoy having to stare at their commode when they are bathing or by the sink. If you have the space, consider setting the commode in a separate enclosure within the bathroom. 
Some people especially do not enjoy looking at the commode in the bathroom mirror. This is especially true if you have a large mirror in the bathroom. You can conceal the commode with a wall, or even part of a wall so that it is not directly in plain view. A person who needs to use the commode will make it a priority to find out exactly where it is as soon as possible.