Recently updated on October 25th, 2022 at 11:11 am
Japanese cuisine is one of only three national food traditions recognized by the UN for its cultural significance. Alongside French and Mexican food, UNESCO added Japanese food to the Intangible Cultural Heritage list, meaning that these food traditions were crucial to the preservation of Japanese culture.
And they're definitely on to something. Japanese cuisine is so unique, having even a single meal at a Japanese restaurant can tell you a lot about the culture.
Keep reading for six things you might not have already known about Japanese cuisine.
1. Sushi Was Originally for Preserving Fish
When sushi was introduced in Japan in the 8th century, it was made from fermented rice and salted fish. By adding rice vinegar and sake, people tried to prevent the growth of bacteria and keep the fish fresh longer.
Back then, the rice was thrown out before the fish was eaten. Now, of course, we recognize sushi as including the rice as part of the meal. Many of the common condiments, or Yakumi, we associate with sushi were disinfectants, too. Wasabi and pickled ginger, for example, are both antibacterial and helped disinfect sushi before refrigeration. 
Sushi has come a long way since the 8th century, and it's due in part to the booming seafood industry in Japan. There are at least 12 wholesale fish markets in Tokyo alone, selling fresh, frozen, and processed seafood. Just one of these markets sells over 700,000 tons of seafood a year!
You might have also heard the term "Umi" in Japanese cuisine, or read it on the sign of your favorite sushi restaurant. That's because the word Umi means sea or ocean and speaks to the large part seafood plays on the Japanese table!
2. Simplicity, Seasonality, Regionality
Japanese cuisine is not only simple, but Japanese chefs also rely on seasonality and regionality for their ingredients. This means that popular dishes can shift throughout the year, and you might find different food options in different cities. They emphasize freshness, so they use the best quality options of what's available.
Japanese food avoids overly complex cooking techniques and strives instead to help natural flavors shine. This is another reason they look to what's in season. Ingredients at their peak will taste the best.
The island conditions point to why regionality is important in Japanese cuisine. Different parts of the island experience different weather patterns and have different climate conditions, influencing their food and traditions.
Osaka Japanese cuisine, for example, has a couple of standouts that aren't as popular in other parts of the country. Takoyaki is a dish of fried dough balls filled with octopus. Okonomiyaki, translating to "whatever you like," is a sort of savory pancake. It's made from mixing whatever you have on hand into a batter and frying it, then topping the pancake with a rich sauce.
Kyoto Japanese cuisine, on the other hand, is famous for its tofu, including Yudofu, or tofu cooked in hot broth. It's also the city to try Kaiseki, a traditional multi-course Japanese dinner.
3. Rice Galore
Believe it or not, rice often makes an appearance at all three meals in Japan. That's right, breakfast, lunch, and dinner aren't complete without a bowl of rice.
It might be a side dish, or it might be the base of the whole meal. Either way, rice is an integral part of many of their recipes, including even some of their desserts like mochi!
Donburi, a mixed rice bowl, is a classic comfort meal throughout Japan. It usually consists of some protein (fish or meat), vegetables, and other ingredients all simmered in broth together and then served over rice. But you can use almost anything to make donburi, so it's an easy and simple dish that many prepare at home.
4. Careful With Those Chopsticks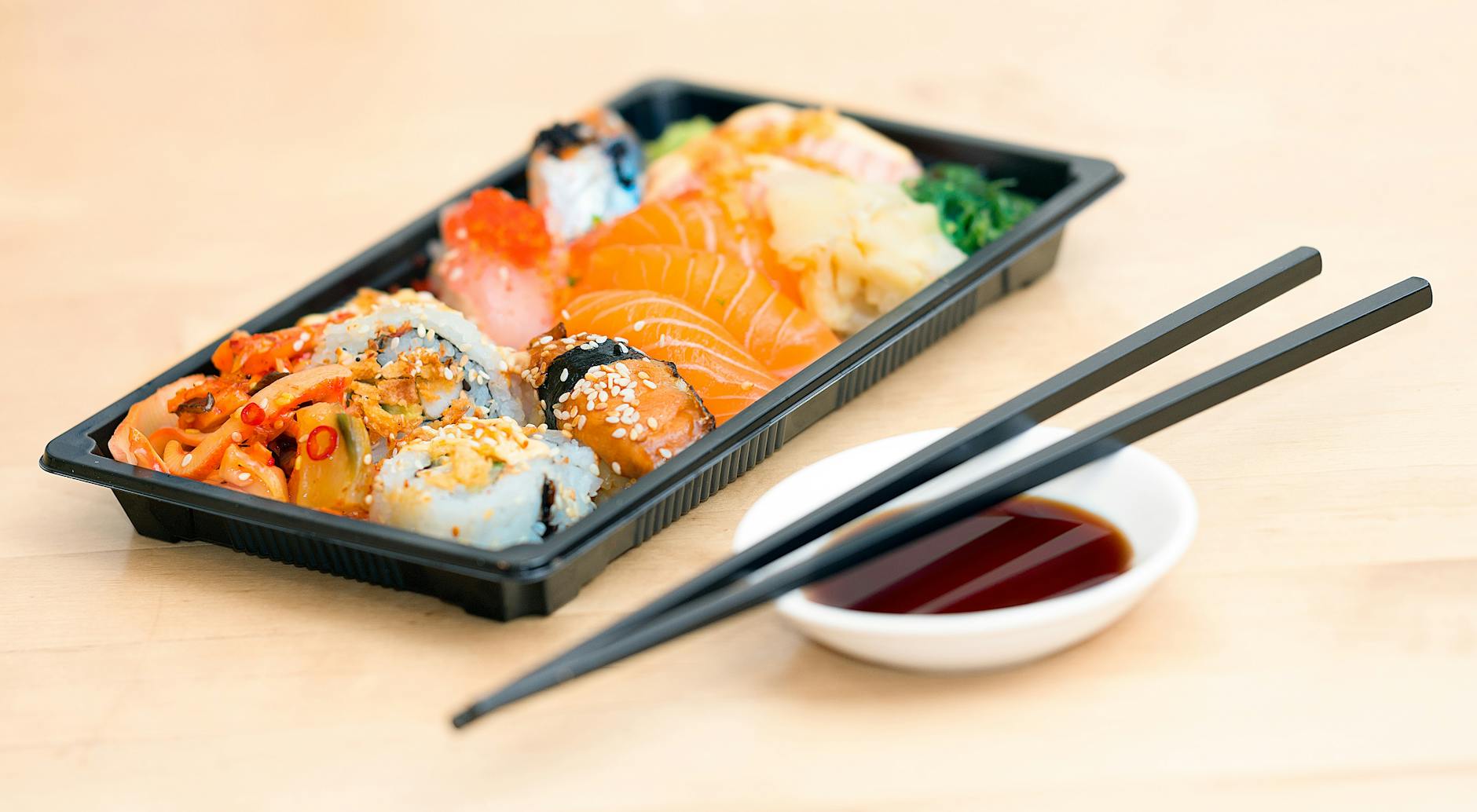 In Japan, there are very specific rules surrounding how you should use your chopsticks. Many of these speak to etiquette and politeness, but others speak to cultural superstitions.
For one, you should rub your chopsticks together because it implies that you think they're cheap. You also shouldn't point with your chopsticks or wave them over people's dishes on the table.
Sticking your chopsticks vertically into your food, especially rice, shouldn't happen at the dinner table since it's done during funeral rituals. You also shouldn't pass food directly between chopsticks, because this is how bones are passed during funerals.
5. It's Not All Seafood
Although meat in Japanese cuisine is a lot more recent than seafood, it still has a place on the table. From pork tonkatsu to wagyu beef, Japanese cuisine can cater to meat lovers.
One popular dish is Yakitori, or skewered and grilled chicken. These skewers are grilled over a charcoal fire and seasoned to perfection. But any old grill won't get you that same flavor.
6. Tokyo Has a Lot of Restaurants
Compared to other cities around the world, Tokyo consistently has the highest number and highest density of restaurants. It usually clocks in somewhere around 150,000. For comparison, New York City has somewhere around 27,000 restaurants. 
On a related note, Japan also has the largest number of Michelin stars. In 2020, there were 668 restaurants in Japan with at least one Michelin star, and 200 of those were in Tokyo. 
Explore Japanese Cuisine for Yourself
Now that you've learned more about the ins and outs of Japanese cuisine, you can get out there and explore it for yourself. Get started with a quick internet search for "Japanese cuisine near me," and you're ready to experience all the flavors this island nation has to offer.
If you found this post helpful, check out some of our other lifestyle articles!