Recently updated on October 25th, 2022 at 11:03 am
If you are traveling to Singapore, that too with kids, you have to head to Kiztopia. It is the largest indoor kid's entertainment zone and is located at Marina Square Mall. However, if you thought that this place was only centered around kids, you were never so wrong. Family entertainment is a top priority for the mega indoor event center. 
You will come across the best structured and well-designed play areas that include a variety of rides and activities. You can avail yourself of the kiztopia tickets online, without having to reach the venue in a hurry and book them. 
Now, you can enjoy your time with the children and also get them to engage in several educational activities. It is edutainment, at its best. You will also come across a variety of animated characters in this 18,000 sq ft. indoor play area. Moreover, you can choose from Ninja Warriors and Themed Rooms to Train rides. There is no dearth of choices. 
Kiztopia Singapore: Explore All the Fun Activities in 2022
The eighteen play areas located within the premises are dedicated to offering specific learning objectives for kids. It also helps the children develop their motor, social, and emotional skills. You will see the biggest ball pit here, too. It is not just about a few balls strewn here and there. Your kids can literally swim in them. 
1. Get Kiztopia Tickets For AR Wall 
After getting hold of the kiztopia tickets you can head to AR Wall. It is located behind Mojo Zone, one of the other attractions. Furthermore, your kids will find a variety of games being displayed on the AR Wall. Children can showcase their works of art on the wall. 
Moreover, your kids will be able to throw the balls at bubbles to free the trapped fish. It is the perfect spot for tiny tots to bigger kids. You can nurture their drawing skills here. 
2. Roll Play Rooms 
Now, there is more to look forward to at Kiztopia. You can exercise your children's bodies with all the sprinting and jumping. However, that is not all. Role Play Rooms are now available, which helps to boost the creativity and imagination of the kids. You will come across a false kitchen and grocery store as well. 
There is fake money as well for kids to exchange. Moreover, the activities require your kids to think out of the box and come up with interesting solutions to problems. 
Thus, you can lend a hand towards the brain development of your kids with such wholesome activities at Kiztopia. 
3. Sprite and Pepe's Ball
Get hold of kiztopia tickets and take your toddlers to Sprite. Kiztopia has two play areas for this age group. Why should they miss all the fun? Sprite is the first one amongst them. It is a small play area with a ball pit. Furthermore, the older kids can also enjoy the place. The other one is called Pepe's Ball. 
Your kids will come across several mini obstacles. These help the toddlers use their problem-solving skills and come up with ways to bypass the obstacles. You will find several inflatable balls and soft climbing structures inside. 
The small climb and slide structures pave the way for the tots to slide into the ball pit directly. Additionally, there are ride-on toys just on the periphery. 
4. Bouncy Tiger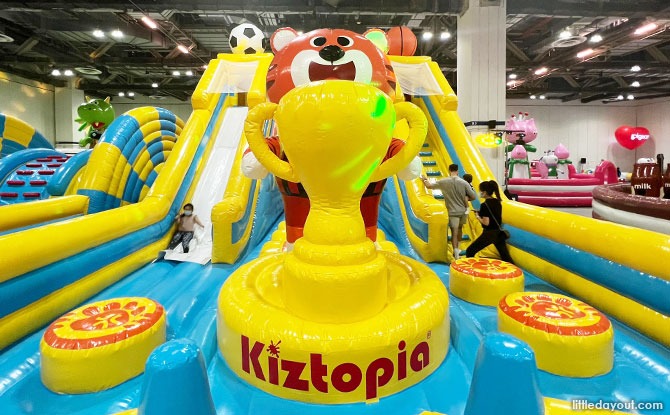 Image source: https://www.littledayout.com/
The next stop for your kids at Kiztopia is Bouncy Tiger. Is any children's play area even complete without a bouncy castle or two? Not really. The Bouncy Tiger is amongst the most popular zones for kids here. 
The space has been built, keeping the kid's safety in mind. So, you can just leave them there to bounce around and develop their motor skills. Let them roll and slide until they are tired. It is an instant hit with tourists. 
5. Ninja Warrior Zone
Ninja Warrior Zone is another top spot for kids at Kiztopia. Moreover, there are numerous obstacles, staircases, and monkey bars in this section. Older children will enjoy their time to the fullest in this zone. 
Children get to move at a faster pace while stopping at obstacles. Children climb, jump, spin, and balance in this play area. Parents can also join in to have some fun. You will also find a swinging bridge in the Ninja Warrior Zone. It is a great workout for kids there.