Wushu is an ancient Chinese martial art that has been practiced for centuries. One of the most exciting aspects of wushu is its wide array of weapons, including the staff, sword, and spear.
Mastering these weapons requires not only physical skill but also mental focus and discipline. If you're interested in learning how to wield these weapons, there are several things you should keep in mind. 
Here are some tips to help you become a master of wushu weapons.
1. Physical Training for Wushu Weapons Mastery
When it comes to mastering wushu weapons, physical training is an essential component of the process. 
In order to develop the strength, endurance, and flexibility required to wield weapons effectively, you need to have a solid fitness routine that targets key muscle groups and prepares your body for the demands of training.
One of the best ways to build endurance and strength for wushu weapons training is through conditioning exercises. These can include high-intensity interval training (HIIT), plyometrics, and other exercises. These exercises challenge your cardiovascular system and build up your muscle mass. 
Stretching and warm-up techniques are also essential for preventing injury and maintaining flexibility. Before you start training with your wushu weapon of choice, make sure you take the time to properly stretch out your muscles and joints. This will help prevent strain or tearing of your muscles and ligaments, and ensure that your movements are fluid and well-executed.
2. Technical Skill Development
Technical skill development is key. Improving your hand-eye coordination, footwork, and timing is essential for executing precise and effective strikes and blocks with weapons like the staff, sword, and spear.
To improve your hand-eye coordination, there are several tips you can follow. One effective technique is to practice juggling. This can help train your eyes to track moving objects and improve your reflexes. You can also try using a speed bag or hitting a punching bag to improve your timing and accuracy.
Mastering footwork and movement is also crucial for developing technical skills in wushu weapons. You should aim to be light on your feet and able to move quickly and fluidly in any direction. One way to practice footwork is to do drills that focus on changing direction quickly, such as ladder drills or cone drills.
3. Partner Drills and Sparring
Partner drills and sparring are essential components of wushu weapons training. By training with a partner, you can improve your technique, develop your reflexes, and learn how to apply your skills in real-world situations.
To improve your skill set through partner drills, it's important to find a training partner who is dedicated to their own training and willing to work with you to improve your technique. You should start with basic drills, such as striking and blocking drills, and gradually progress to more advanced partner drills.
Controlled sparring situations are another important aspect of partner training in wushu weapons. This type of training allows you to apply your techniques in a more realistic scenario, while still maintaining a controlled and safe environment. 
Moreover, good sportsmanship is essential in wushu weapons training, whether you're training with a partner or competing in a tournament. You should always treat your training partners with respect and follow the rules and guidelines of your training or competition environment. 
4. Advanced Training and Specialization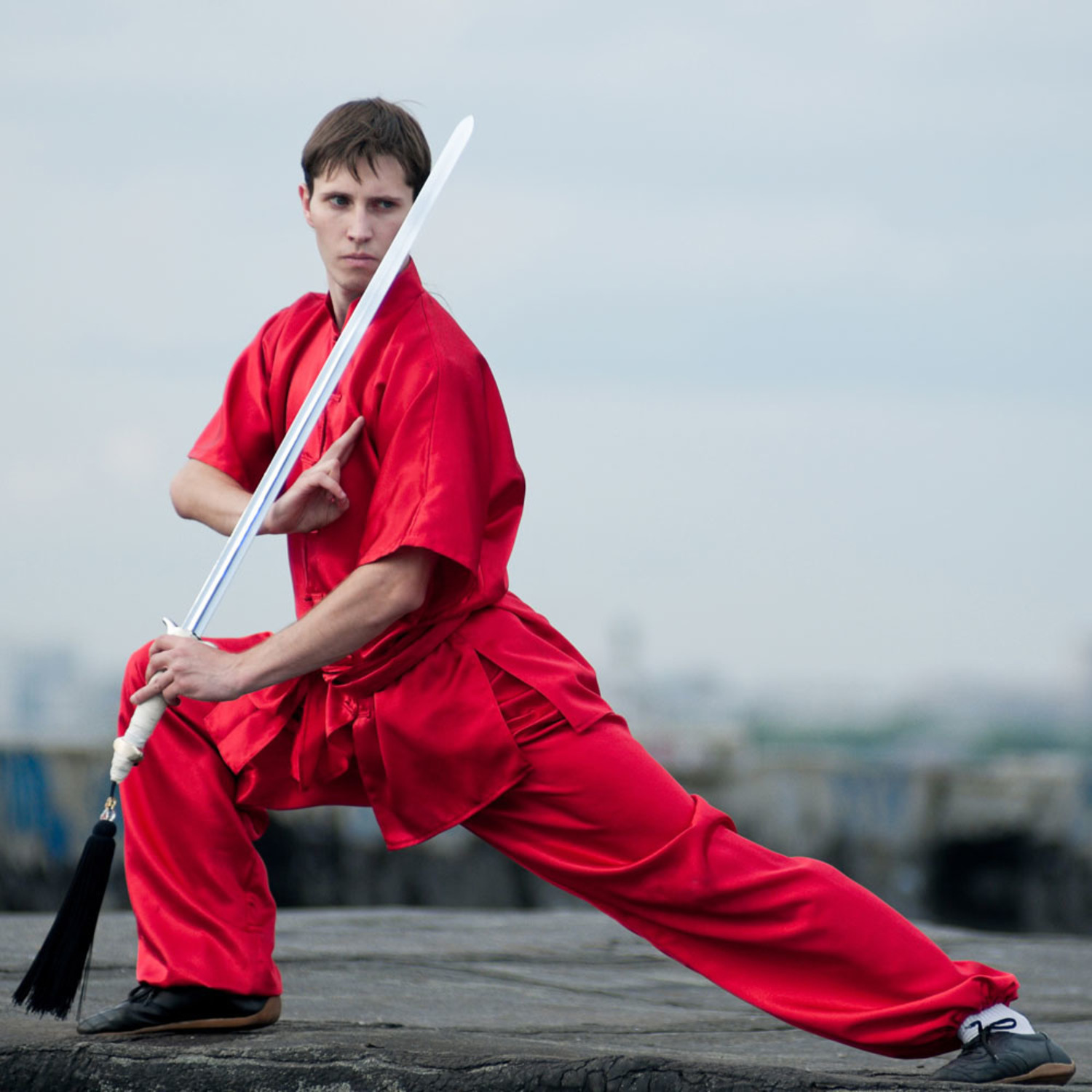 Image source: webshopapp.com
Once you have developed a solid foundation in wushu weapons, it's time to push yourself to the next level of mastery through advanced training and specialization.
One way to do this is by honing your skills in one particular weapon. This involves dedicating yourself to mastering the intricacies of that weapon and developing a deep understanding of its strengths and weaknesses. 
Another way to advance your skills is through participating in wushu weapons competitions and tournaments. These events provide an opportunity to test your skills against other skilled practitioners, and to learn from the experience of competing in a high-pressure environment. 
To prepare for advanced training and specialization, it's important to continue practicing the basics of wushu weapons. This includes physical conditioning, technical skill development, partner drills, and sparring. 
You should also consider seeking out specialized training or coaching from experienced instructors who can help you refine your technique. Take your skills to the next level!
Closing Thoughts
Mastering wushu weapons is an incredible feat that requires discipline, hard work, and dedication. But don't let that discourage you – the journey to becoming a master of the staff, sword, or spear is a rewarding and exciting one that is sure to bring out your inner warrior.
So why not take that first step and see where it takes you? Whether you're a beginner or a seasoned practitioner, there's always room for improvement and growth. With hard work and determination, you too can become a true master of wushu weapons.