Looking to give your house an upgrade but don't have the budget for a major renovation? There are plenty of low-cost and easy ways to do so! From adding fresh color accents and changing light fixtures to bringing in stylish rugs and curtains – making small changes can refresh your living space without breaking the bank.
This blog post will explore various updates you can make without breaking the bank or needing wall demolition! Read on to discover how easy it is to give your living space a modernized touch-up while spending minimal effort!
1. Refresh Your Walls with a New Coat of Paint
With the change in seasons comes an ideal opportunity to freshen up your walls with a fresh coat of paint. Whether you want to create a cozy atmosphere with warm earthy tones or add pops of color for extra zest, there's sure to be a color that suits your style perfectly.
Painting not only has an immediate visual impact but can also be a therapeutic and rewarding experience – plus, it's relatively affordable, so there's no need to make major renovations! So why not dust off those brushes and give those walls an entirely fresh new look?
2. Change out old door handles to give your home a modern look
Looking to update the aesthetic of your home? Swapping out outdated door handles is an effortless and effective way to do so. Whether your space has a traditional classic aesthetic or more of a contemporary vibe, there are endless styles of handles that can enhance any space – from sleek minimalist pieces to rustic vintage-inspired pieces.
Not only will new handles give off an upgraded appearance, but they will also make opening and closing doors much smoother! So why not give your space the upgrade it deserves and start shopping for new door handles today?
3. Switch Out Light Fixtures
Are you fed up with looking at the same old light fixtures in your home? It may be time for an upgrade! By switching up your light fixtures, you can completely transform the mood and aesthetic of any room. Choose something sleek and modern or go for something classic and rustic; there are endless options whether you want a statement piece or something subtler.
Add canister lighting to your home to light it up in style! Don't be afraid to get creative – who knows what magic can be created by just changing up some light fixtures! 
4. Update Your Bathroom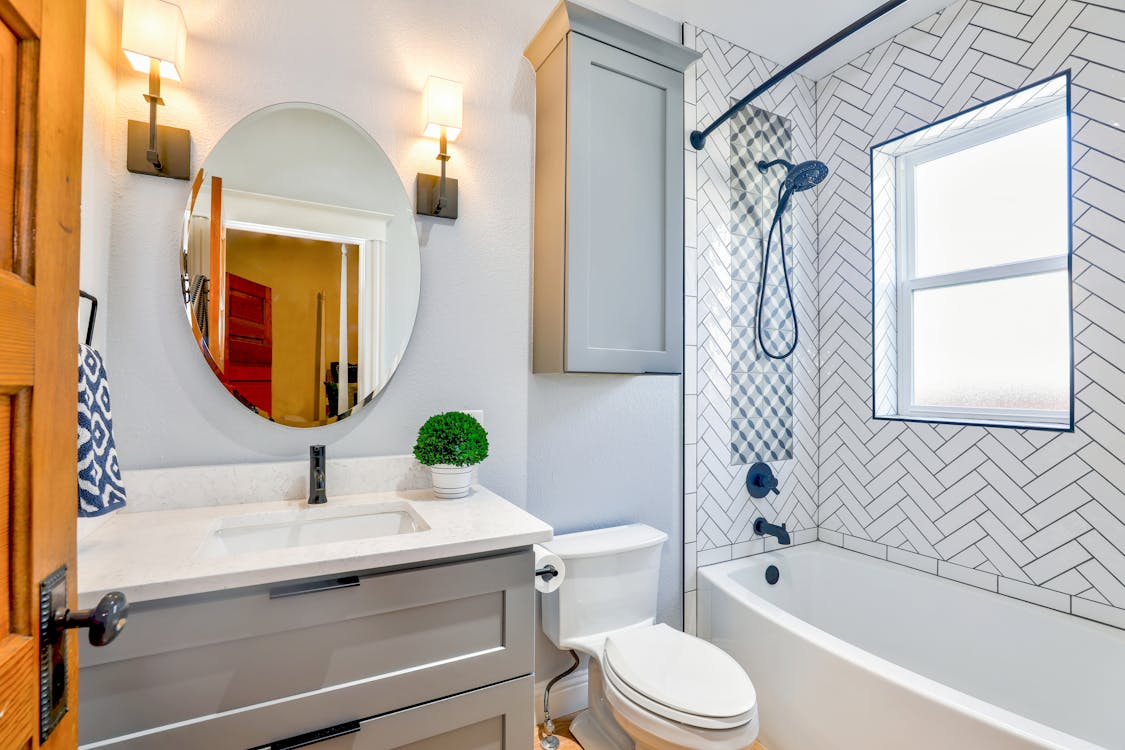 With just a few simple changes, you can transform it into an inviting oasis. Begin by replacing worn-out flooring with sleek tile or hardwood. Substitute the shower curtain for glass enclosures for more openness in the space. Install new lighting fixtures to brighten up the room while adding some flair. Finally, finish off by applying fresh paint or wallpaper if desired for extra style points. 
Home renovations can be expensive and inconvenient. But you don't have to invest in major changes; simple yet cost-effective updates will do the trick. Though painting your walls may not seem as exciting as installing brand-new flooring, it can be an effective way to brighten up any room.
So whether you choose to repaint them with a fresh coat of paint or simply hang some mirrors or wall art for a completely different aesthetic, consider giving your walls a fresh new look! Furthermore, updating old door handles or light fixtures will give your home a modern flair, while updating the bathroom can enhance its overall aesthetic.