It's important to have the right tools to create impressive video content, whether you're a professional content creator with your own media firm or a TikToker/YouTuber. In this article, we will be introducing you to one of the top video editing software which is perfect for achieving high-quality results.
Video content is becoming increasingly important online nowadays, especially on social media platforms such as Instagram, TikTok, YouTube, etc. The expansion of high-resolution recording devices like smartphones, GoPros, DSLRs, and mirrorless cameras required strong video editing software to meet the demands of modern content creators. 
The video editing software should support newer codecs like HEVC (High-Efficiency Video Coding), HDR, and VR, and caters to both experts and amateurs. Since smartphones and cameras are upgrading that can capture 4K and even higher resolutions and more features are coming such as motion tracking, multi-cam editing, and advanced color grading, professional-level editing tools are more required now. Hence, Minitool MovieMaker is great for video editing and for creating stunning video content.
Unlock Your Potential with MiniTool MovieMaker:
MiniTool MovieMaker is user-friendly which makes it the best choice for beginners and professional video editors to create stunning videos. This video editor allows you to combine your own video clips, photos, and music to create a stunning video. One of the key features of MiniTool MovieMaker is the templates it offers, which allows users to quickly create a video by selecting a suitable template and importing their media files.
In addition, users can create more dynamic and engaging videos on the timeline/storyboard by adding transitions, effects, motions, animations, and texts. It also has an option for saving and exporting the file as well as sharing on social media.
Features of  MiniTool MovieMaker:
It has lots of features that you can use to make your video look more stunning. Here are some of the top features of the Minitool MovieMaker that make it stand out:
Free to use with no bundles, ads, or watermarks.

A wide selection of cool video templates for different occasions like Travel, festivals, and more.

Easily import videos, pictures, and audio in various formats.

Access to numerous video transitions, filters, captions, titles, credits, motions, animated stickers, and more.

Create slideshows with pictures and music.

Easily adjust video speed and even reverse videos.

Split, trim, merge, crop, and rotate videos to get your desired final product.

Add animated titles, subtitles, and end credits to videos.

Edit and add music to your video, mute background noise, and more.

Export your finished videos in common video formats.

Adjust video quality, encoder, bitrate, frame rate, and video resolution to ensure the final product meets your expectations.
With MiniTool MovieMaker and its impressive range of features, you'll be able to create professional-looking videos in no time, even if you're a beginner. Give it a try and see for yourself!
The Feature of new MiniTool MovieMaker 6.0:
1. Before Creating a Video – Select Aspect Ratio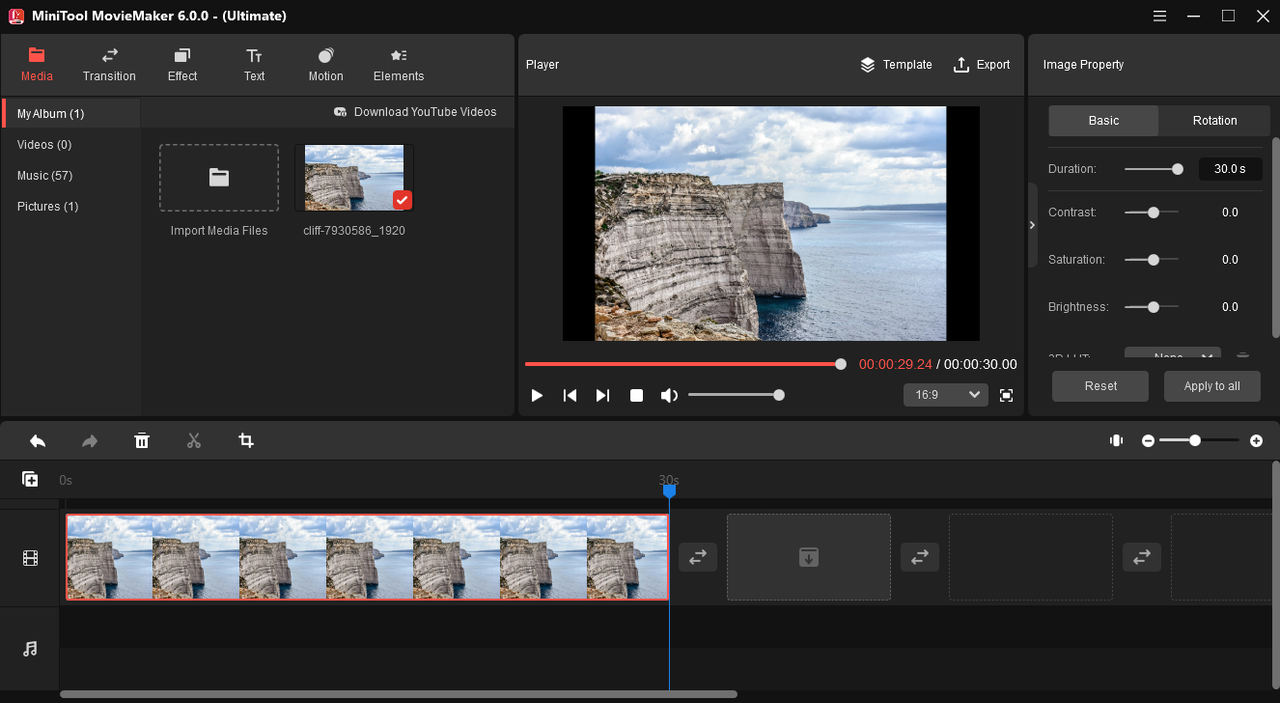 The judicious selection of aspect ratio constitutes a crucial step in the pre-production phase of video creation. Anticipating the intended platform and target device, and discerning the optimal ratio accordingly, can significantly enhance the visual impact and user experience of the final product.
2. While Editing – Change the Video Aspect Ratio
Moreover, it is possible to modify the aspect ratio of the video during the post-production phase, thereby affording greater flexibility and control in optimizing the visual aesthetics and formatting of the final output.
3. New Texts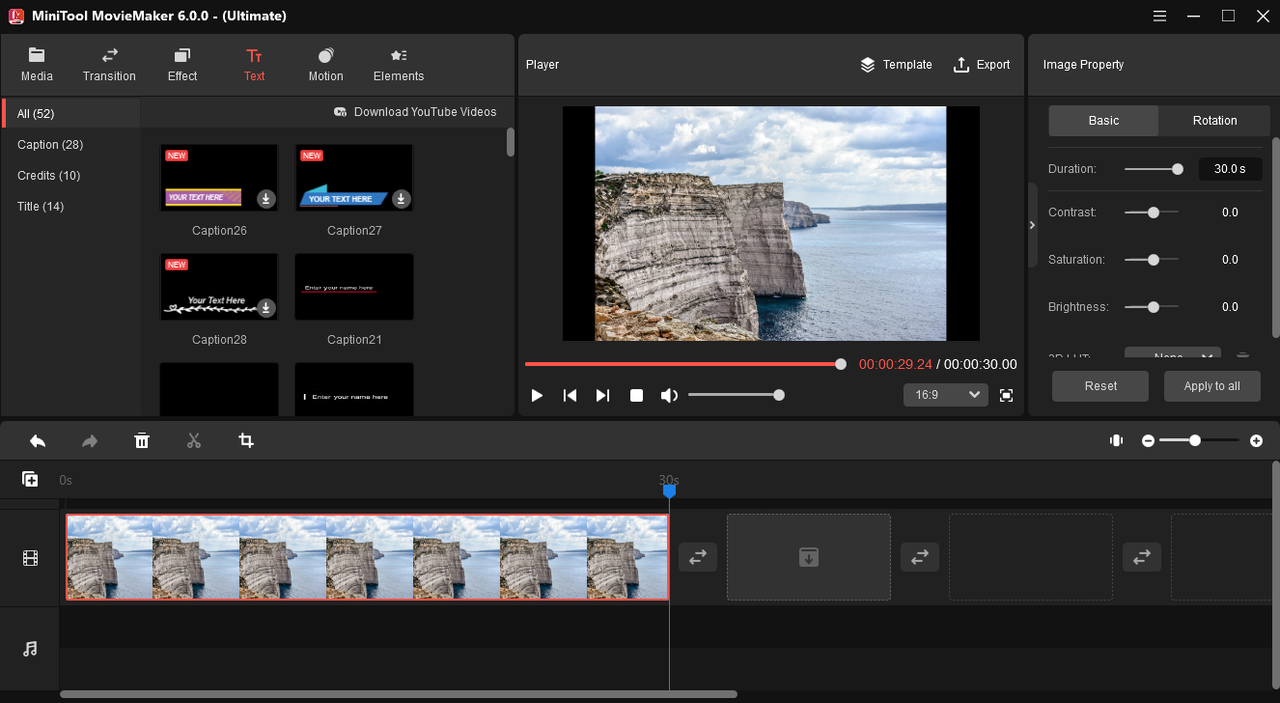 Specifically, the MiniTool MovieMaker version 6.0 software update includes three new text templates categorized under the Caption subtype, indicating an expanded range of creative options available to users.
4. New Music
MiniTool MovieMaker version 6.0 boasts an additional five songs, each of which is exempt from copyright claims, further augmenting the already-impressive library of audio resources accessible to users.
Careless

Cold

Failure

Never Give Up

Rumors
5. MiniTool MovieMaker 6.0 New Cartoons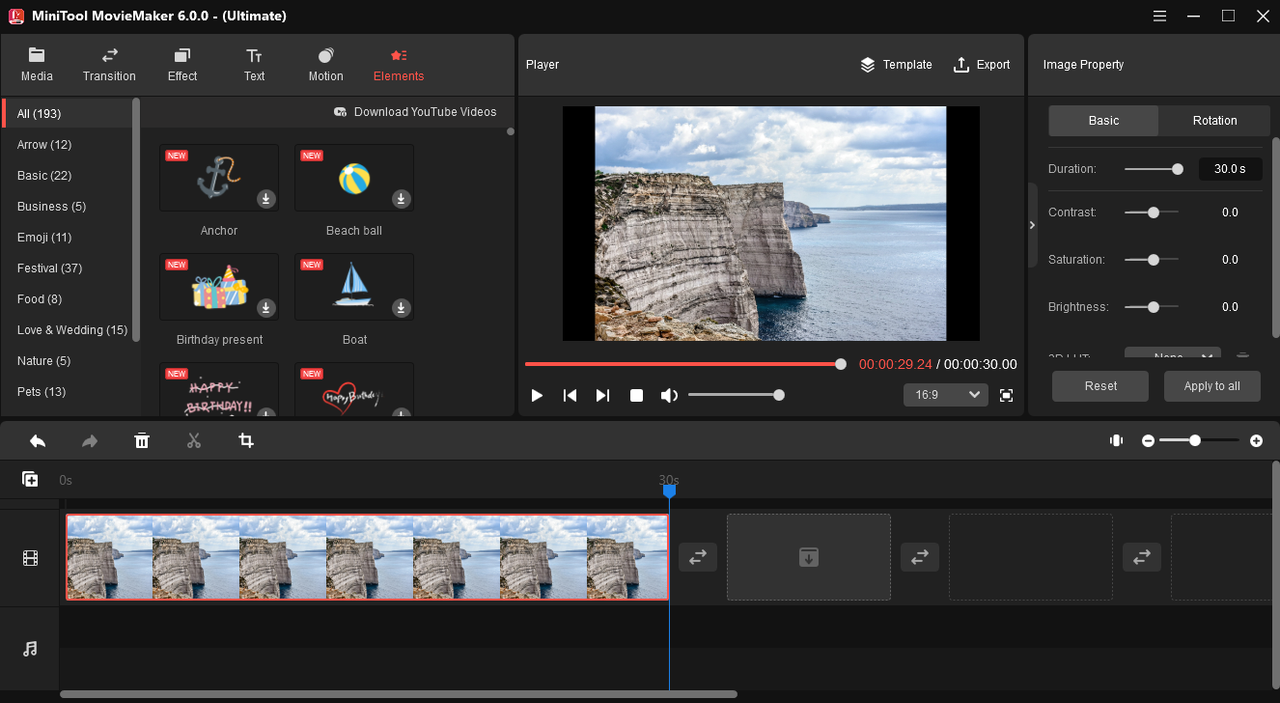 In addition, it offers users access to a collection of 11 fresh animated stickers centered on the themes of birthdays and weddings. The inclusion of these playful, cartoonish elements serves to further enhance the visual appeal and creativity of videos featuring these celebratory occasions. 
Conclusion: 
The importance of having good video editing software cannot be overstated as video content becomes increasingly important online. MiniTool MovieMaker is an excellent option for both beginners and professionals as it offers extensive features such as templates, transitions, filters, captions, titles, motions, animations, and more. 
The new version 6.0 also includes additional features like aspect ratio selection, modified aspect ratios, new text templates, copyright-free music, and fresh animated stickers. With MiniTool MovieMaker, users can create stunning videos with ease and take their video content to the next level.