Recently updated on March 15th, 2023 at 03:40 pm
Some people think that you-just sit-there when you're riding a horse, but nothing's further from the truth. Over 30,000 people with disabilities participate in this sport as a form of physical therapy every year. 
Riding horses is good for your soul, your fitness, and your stress levels. Yet, if you want to get the most out of it, it's best to dress the part.
Horse riding gear's designed to avoid chaffing and discomfort while onboard a horse, so it's worth searching for the correct items.
Here's what to wear horseback riding if you want to look the part.
1. Pants for Horseback Riding
Many people head out on trail rides wearing jeans and other loose pants, but these outfits won't do if you're going riding in an English saddle. These saddles can pinch and chaff before long, so you'll need specialized riding pants to travel in comfort.
Jodhpurs are a type of horseback riding pants that end at the ankle, or you could opt for breeches that end mid-calf and suit long boots better.
For safety's sake and convenience, it's often best to stick with gear from leading equestrian clothing brands. That way you know you're getting suitable horseback riding clothes designed for the task at hand. 
2. Tops and Blouses for Horseback Riding
You should always wear practical and sensible clothes for horseback riding, so leave your skimpy tops and flamboyant blouses at home.
Wear a comfortable top that's suited to the weather and covers your shoulders. You'll feel most comfortable in a snug-fitting top that doesn't restrict your movement.
A T-shirt is fine for riding but please tuck it in neatly.
3. Boots for Riding Horses
Boots work best for riding because they protect your legs from scrapes and scratches when riding out in nature, but you can wear any shoe with a heel.
Trainers or other flat-soled shoes may jam in the stirrups if you fall off and cause a nasty accident. 
Jodhpur boots or long boots are best, they provide all the support you need while riding and don't have zips on the inside which may scratch the saddle and irritate the yard owner. 
4. Riding Hats
Even experienced riders should never mount a horse unless they're wearing an approved riding hat that meets all the latest safety standards.
Horses are flight animals and can act unpredictably when they feel threatened. If you fall off without a hat, you could seriously injure yourself.
If you don't have a hat, borrow one, but never ride a horse without one.
5. What to Wear Horseback Riding in Winter
Ambling through the snow's a wonderful experience when you've got a steady steed underneath you. If you want to make the most of this experience, you'll need a windbreaker and gloves.
You can also get thermal jodhpurs or underwear that's suitable for riding in comfort. 
Scarves aren't recommended for horseback riding as they can snag on branches or flap loose and frighten the horses behind you.
6. Invest in quality riding gear
Choosing the right gear for your horse is essential to ensure their comfort, safety, and overall well-being. The equipment you choose will depend on your horse's breed, size, and discipline, as well as your preferences and riding style.
One important piece of gear for your horse is the saddle pad. Saddle pads are designed to protect your horse's back and absorb sweat and shock while riding.
When it comes to choosing a saddle pad, good quality is a must, but the color of the saddle pad, whether it's pink, red, or another color, may be necessary to some riders, especially during events. Many companies offer saddle pads in various colors and styles; for example, you can review saddle pads in pink by LeMieux, to have an idea of how you can style your horse to match your outfit.
7. Try Something New Today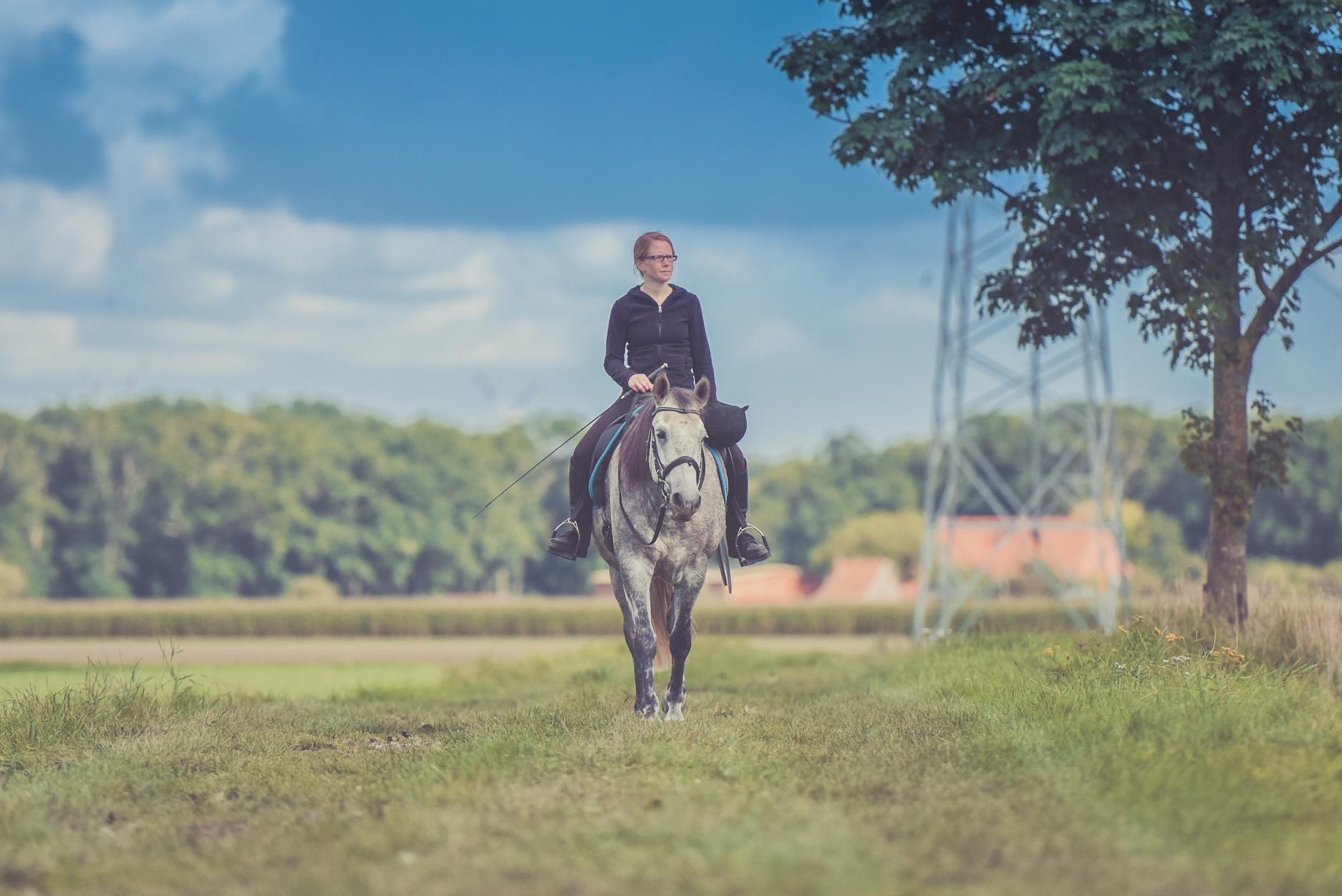 Now that you're up-to-speed with what to wear horseback riding, there's nothing to stop you from taking part in this popular outdoor activity.
It's a fun activity everyone can enjoy with friends, alone, just for fun, or competitively. 
If you've been-there-done-that and you're looking for something different, keep browsing our website for inspiration.