Recently updated on June 7th, 2023 at 07:23 pm
As teachers, you all know the importance of sharing documents with your students. Whether it's a syllabus or assignments, having an easy-to-read and easy-to-share format is important. One way to do this is by converting your Word documents to PDF files.
In this article, we will explain the advantages of converting Word to PDF files for teachers.
1. Preserving The Format
Preserving formatting is one of the most important advantages of converting Word files to PDF for teachers. When you spend hours creating a file with headings, subheadings, bullet points, and other elements, you want to ensure that the file looks the same way on your students' devices as it does on yours.
When you share a Word document, the format can sometimes change due to differences in the version of Word or the operating system being used. For example, if you use a specific font that isn't installed on your student's device, the font will be changed with a default font, which can affect the appearance of the file.
Additionally, the file's result may also be affected by differences in the page's style. This can be problematic if you have included images, charts, or tables in your file, as the design of these elements may change when the document is opened on a different device.
 2.

Protects File Content
Protecting file content is another benefit of converting Word to PDF for teachers. When you share a Word file, anyone with access to it can make changes to the content. This can be a problem if you want to preserve the integrity of the information you're sharing.
For example, if you're sharing an exam or other assignment with your students, you don't want them to be able to change the questions or answers. This can risk the assessment and make it difficult to grade fairly.
When you convert your Word document to a PDF file, you can use security features such as password protection or permission restrictions. This means that only those with the correct password or permission settings can make changes to the file's content.
 3.

Improved Accessibility
Increasing accessibility is another advantage of converting Word documents to PDF files for teachers. PDF files are easily accessible on any device, whether it's a computer, tablet, or smartphone. This makes it easy for your students to reach your documents regardless of the device they're using.
Additionally, you can compare PDFs file and open them with free software which means your students don't need to have Microsoft Word or any other software installed on their devices. This makes it easy for students who may not have access to the same software or devices as you to still be able to read the file.
PDF files are also more accessible for individuals with disabilities. They can be read aloud using screen readers, which can help students with sight problems or reading disabilities access the information. Additionally, PDF files can be made accessible by adding alt text descriptions to images and charts, which can be read by screen readers.
4. Reduces File Size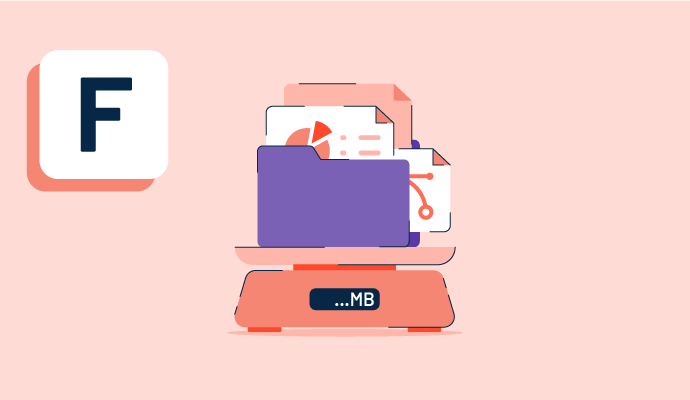 Image source: https://learn.g2.com/
PDFs are usually smaller compared to Word files. This is because PDF files are compressed, which means they fill less space on your computer or storage. This is useful if you need to send large files to your students, as it will reduce the amount of time it takes to upload or download the files.
When you send a large Word file to your students, it can take a long time for them to download or open the file. This can be frustrating for students who may be accessing the document on slow internet or on a mobile device with limited capacity. Additionally, large files can take up a lot of space on your computer, which can slow down your computer and make it difficult to store and organize your files.
 5.

Enhanced Professionalism
PDF files have a professional look, which can improve the whole impression of your files. This is important if you're sharing important files such as syllabuses or handbooks. A professional-looking file can impact your students, and can even improve their engagement with the class or lesson.
One way that PDF files enhance professionalism is by preserving the format of your file. This ensures that your files appear exactly as you wanted them to, with all of the designs in the correct places. This can help to improve the readability and overall appearance of your documents, making them more professional-looking.