Whenever we talk about promoting a business, advertisements are the primary way. Advertisements ensure that the business message percolates into society and reaches the destined prospective customers. While individual marketing and lead generation remain inevitable, outdoor marketing has widespread effects. Outdoor marketing is the first bridge to reach out to a vast percentage of the population and inform them about your products and services.
Billboards are an irreplaceable part of outdoor marketing where people love to have a look at them to get some idea. Along with other marketing elements, billboards got their much-needed update. Now, 3D Led billboards are the main face of outdoor advertising. 
3D billboards create an engaging and exciting experience that brings a new level of effectiveness into marketing. One can utilise 3D Led billboard marketing on any medium, giving an edge to its efficacy. Let us know about 3D billboards in detail;
What Is a 3D Led Billboard?
3D Led billboards are the combination between conventional keyboards and 3D technology. Such billboards use modern technology to portray a 3D image. The outstanding visual experience makes the Billboard stand out among the rest. 3D Billboard works better towards expressing the essence of the business, making prospective customers curious to know about your business. Here you can tell stories about your brand in a more mesmerising way, giving your business an impetus for longer customer engagement.
Working on a 3D Led Billboard
The working of 3D billboards run in consonance with any other 3D displays where two images get displayed on the screen. The images come from two different perspectives and find a place in single footage. Once combined into single footage, the images create a three-dimensional effect. Both the human eyes view the images differently, which facilitates a depth to the 3D technology. The implementation of digital technology and media gives the display a 3D edge.
Even in real life, both eyes see objects around them in two different scenarios that allow visual depth. 3D Led Billboards create the same optical illusion that makes a person see and believe in an object's real existence when the existence itself is fake.
Characteristic Features of 3D Led Billboards
3D Led billboards rose to immense popularity owing to their impulsive engagement and realistic viewing experience. All the engaging features concerning 3D-led billboards find an origin in their intrinsic features. The features come together to create a view you will remember for quite a while. Let us have a look into its characteristics;
The 3D technologies aid in creating an illusion of depth to facilitate a real-life experience.

Adjusting two different images creates an optical illusion that runs according to real-life objects viewed by the human eye.

3D effects give perception into the depth of objects.

3D Led billboards to have more effectiveness than conventional billboards.

While the images created by 3D-led billboards are two-dimensional, they create a three-dimensional viewing experience for people.
Mediums to Use 3D Led Billboards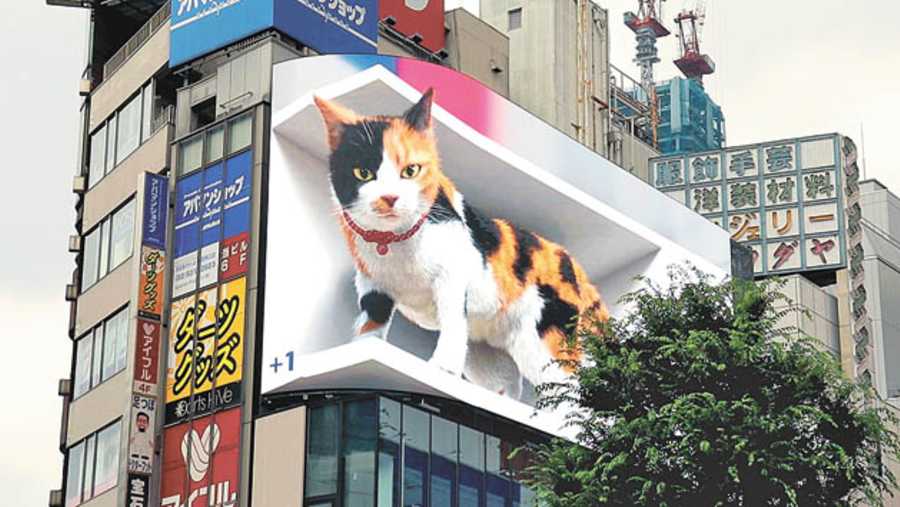 Image source: telegraph.com
Earlier, we mentioned that 3D Led billboards could work on any medium, which is true. The diversity of medium allows the utilisation of 3D billboards for successful marketing. Earlier advertisers thought poles and beams were the only way to project a 3D Led billboard. Nowadays, you will find 3D Led billboards in transit shelters where they get attached to metal and glass frames. The installation aids in injecting social engagement among the people commuting around. They can find a place anywhere in transit shelters, be it on top, outside, or inside, with the effectiveness ranking high. 
Buses use such 3D billboards to communicate a destined directive to the public or spread awareness about some social or advertising campaign. 
Among the regular 3D billboard applications, mobile billboards emerged as the most successful. Industry data claims that mobile sales jumped to 107% after installing 3D-led billboards, a whopping jump of 54% from the static billboards. The realistic ad presentations help prospective customers get a vehement idea about the concerned product, thus triggering their intuition to go for a purchase.
The effectiveness of 3D billboards remains unmatched. Over time, it will become the primary way for successful ad campaigns.