For all the marketers out there, we all have heard about the functionality of the ads and Facebook ad templates. Right now, in the world, Facebook is the biggest social media platform. On this social media platform, millions are people log in to their accounts every day. Therefore, all the brands and organizations are also looking for ways so that they can sell their products and services on those platforms. The best way to grab the attention of users that are available on Facebook is by doing promotions on Facebook.
Despite being a simple social media platform, Facebook ads are not so easy to create. If you consider some of the Facebook ad templates for you, then the task becomes a lot easier. Then, you do not have to go through all the procedures of making a promotion from scratch. From the thousands that are available online, if you pick the right one, then you are good to go. But, in most cases, this is not the actual scenario.
You have to be careful while choosing the template so that it suits the campaign of your organization. When your team from your company works on a definite ad template, then the whole ad campaign of your brand looks very cohesive, and each ad of the collection makes the brand image more prominent. Hence, all these Facebook ad templates save a lot of time and build up the company image for the future. Here, in this piece of writing, we are going to share some of the best Facebook ad templates so that you can also create your promotional video using Facebook Video Editor.
You Have To Make Things Simple By Using Collection Ads For Your Ad Campaign
We are living in the age of so much content. Hence, by seeing all these content, everywhere, our minds get very suffocating. So in this situation, we all need something which can make things simpler for us so that we do not have to worry about anything. If we can give an element to the user who can make decisions for them, then the life of many users gets sorted. 
Interestingly, in the case of the collection ad, we do the same thing. At first, we give the users a curated list of products for them so that the process of selecting the items becomes natural for them. Then, with the feature of Collection ad, we group these items in a way that makes the in-app experience for the user wonderful.
You Can Use The Carousel Ads To Give Multiple Perspectives To The User For A Single Product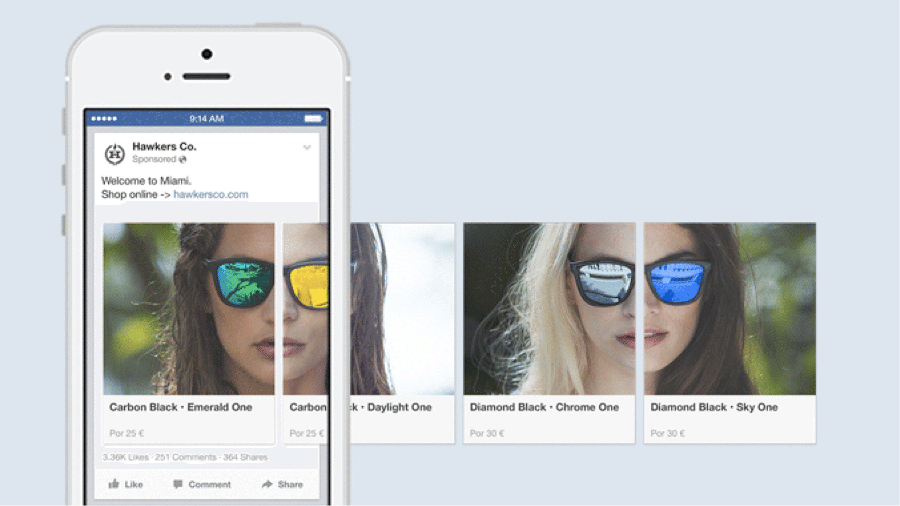 Image source: https://buffer.com/
We all love seeing pictures on our news feed. There is a particular type of ad called Carousel Ads, which takes five or more photos and binds them together in a single ad. The number of pictures that we can use here varies from two to ten. Hence, this type of ad for your organization makes the user understand the story behind your product in a more detailed way.
As the organizations are using multiple pictures for showcasing any one product or service from their organization, therefore, this makes the table turn on its head. The chosen user gets numerous perspectives about a single product. Because of these carousel ads, the decision-making process of the user becomes simpler. The user clicks on the ad and then gets redirected to your product website page. In this way, with the help of Carousel Ads, you drive traffic to your website.
You Have To Go For Promotions That Helps To Increase The Smartphone Application Installs
When you start to create promotional links that are accessible to smart devices, then the whole scenario of advertising changes. The thing that is very important is that we should make these apps getting used in relatable circumstances. Hence, if we can do this to your content, then half of the battle finishes there. 
At the time when a user scrolls through the news feed, and this type of ad appears, then the ad will be able to grab the attention of the user in an instant. In these types of ads, you can also use dynamic links which can directly take the user to the installation page. You can make these optimized video ads using Invideo, too. Be it Android or iOS. These links on the ads can take the users in both places like Google Play Store and Apple App's Store.
You Have To Give Way To The Online Facebook Specific Ads, So That User Gets The Feeling
From the perspective of a physical store, online purchasing is a distinctly unique situation. You are flipping across websites rather than walking around shelves; you are applying specific products to your cart instead of circling through the product alleles. 
Carousel and Collection advertisements assist you in reproducing the impression of purchasing within a regular store by offering your viewers a way of seeing several components in a particular article. Just ensure that when creating an image for these advertisements, you implement the recommended method. Keep your pictures in an even accurate structure and use highly contrasting colors.
You Have To Find A Way To Display The Significance Of Your Products To The Audience So That It Can Grab The Attention
We must all gather leads. They can be very beneficial for your very own organization. A Facebook commercial that shows the importance of your good or service has been one of the easiest ways to achieve so. It is necessary to understand how to display this interest and significance of the product when using these promotional templates and, at the same time, distinguishing out from the other materials and elements in the news feed of your community of users. 
Choosing from all these templates may become a very overwhelming process for you; therefore, we have tried to make things simple. Here, we have given our effort to make all those Facebook ad templates easier to understand so that in the future, you can use them. We are confident that from these examples, you also will be able to create promotional videos using video makers for your firm.