Recently updated on January 5th, 2023 at 06:58 pm
Dental beauty care services are professional oral care services that focus on enhancing the appearance of people's teeth and smiles. If your teeth are broken, chipped, crooked, misaligned, discolored, or have any other dental problem, then dental beauty care treatments can significantly help. 
Some organizations, from the Canadian Dental Association to professional associations, track statistics related to dental care in each province. According to the reports of these Canadian organizations, Dentist in chestermere is known for providing the following discussed dental beauty care procedures from year to year. 
Different types of dental beauty care services
1. Teeth Reshaping
Teeth reshaping, also known as enamel reshaping, is one of the most popular dental beauty care treatments. In this treatment, a small amount of outer covering of the patient's teeth is removed or filled so that their teeth' length, shape, or surface can be modified to give them a proper form.
2. Dental fillings
Dental fillings are opted for by people who are suffering from tooth decay. In this particular dental beauty care procedure, the dentist removes the decayed portion of the tooth, and the cavity is filled using some filling.
For example, an experienced dentist might suggest adding a crown depending on the tooth type to provide additional strength to the decayed tooth. Traditionally, metal fillings were used; however, these days, people prefer using materials that can be tinted to blend in seamlessly with their teeth' natural hue. 
3. Dental veneers and crowns
Accidents can leave a person with crooked, chipped, or broken teeth. In such cases, dentists prefer using a combination of veneers and crowns to restore both strength and appearance of the patient's teeth. Veneers cover cracks by cementing thin porcelain or composite material shells on the front side of the tooth. The Dentist in Chestermere can charge $2000 to $4500 for a single veneer based on the type and quality of the veneer material used.
Dental crowns are treatments used to replace sections along the top of the tooth lost during the accident. 
4. Teeth bonding
Discolored, decayed, damaged teeth or gaps between teeth can distract people from your smile. Teeth bonding is a dental beauty care treatment that helps correct the appearance of such teeth or fill in those gaps. In this process, the dentist removes the decayed teeth, and a tooth-colored material is bonded to the affected teeth. Next, the bonding material is tinted to resemble the teeth' natural color, resulting in healthy teeth with a beautiful smile. 
5. Teeth whitening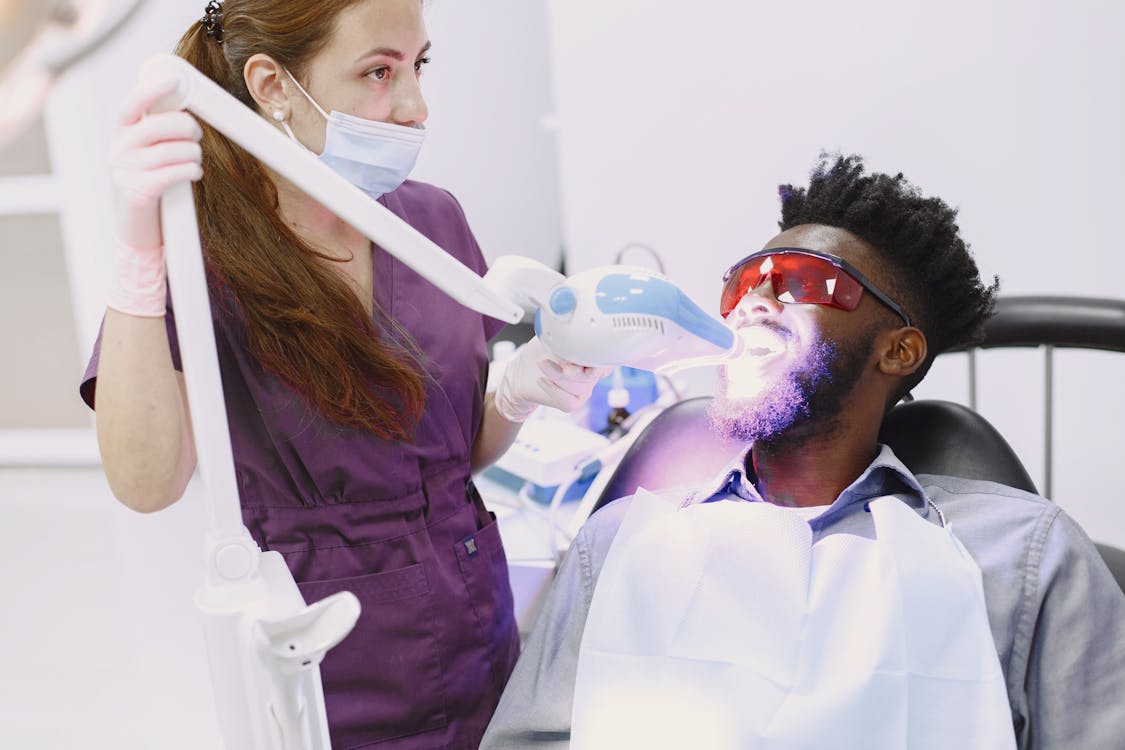 Teeth whitening or bleaching is the most commonly used dental treatment. The ease of access and relatively lower cost make it a lucrative cosmetic dentistry treatment for people who want to enhance their smile without undergoing anything invasive. Usually, dentists in Chestermere, Alberta, Canada charge $200 – $1,000 for in-office teeth whitening treatment. However, depending on the severity of the teeth' discoloration and the type of teeth whitening treatment, it might take two to nine shades to lighten the color of the teeth. 
6. Dental Implants
Basic dental implant procedures usually replace the lost or damaged tooth. A titanium screw is inserted by professional dentists into the patient's jaw at the site of the missing tooth to provide support for a crown. Such dental implants cannot be differentiated easily from the surrounding natural teeth. After the bone and supporting tissue fuse to the implant, they are secured permanently into their place. The cost of a dental implant per tooth ranges between $300 and $600 in Chestermere, Alberta, Canada. This cost varies depending on the type of treatment and also the dentist. 
Conclusion
Most people ignore their oral health unless they are in pain. However, taking care of your teeth is crucial for better dental health. If there is a requirement for dental beauty care treatment, consider opting for these popular procedures. After undergoing cosmetic dentistry treatments, you can correct your decayed, misaligned, broken, chipped, or crooked teeth.