Recently updated on October 25th, 2022 at 11:43 am
Did you know that embroidery can be traced back to the 3rd century? Silk thread was used to create works of art in Ancient China. 
Embroidery was also used to preserve history. The Bayeux Tapestry is exhibited at the Bretagne museum in Northern France, it's one of the most visited exhibits. It depicts the famous Battle of Hastings. 
Learning about the history of embroidery is great but if you're interested in trying to learn the craft for yourself there are some embroidery for beginners tips you should know. Keep reading to learn more. 
1. Embroidery Stitches to Start With
Before doing anything else you should familiarize yourself with the basic embroidery stitches. Learning these basic stitches will give you the foundation to keep improving and will allow you to move on to more advanced stitching once you've mastered these. 
The running stitch is the first one you'll learn. This stitch requires you to pass the needle into and out of the fabric at the same distance.
Back stitching looks like one continuous line. You start from the back of the fabric and then pull the needle into the end of each previous stitch. 
2. Have Some Simple Designs in Mind 
When learning how to embroider, the next step after learning some of the basic stitching patterns is to choose some simple projects to get started. 
Seeing all the beautiful art that embroidery can create will give you the motivation to keep learning and practicing. The designs you choose can be whatever you want but they should be simple enough to not overwhelm you. 
You can choose to do some simple line work on decorative towels or pillows if you want. 
3. Find the Perfect Needle 
Once you know what kind of stitching you need to do to begin your embroidery journey you should start finding the right supplies. Finding good needles can help make the first few practice sessions easier. 
There are many types of needles to choose from depending on your specific needs but the spiral eye needle is great if you struggle to get the thin thread through the needle. 
Petite needles are best for completing fine needlework and keeping your stitching precise. 
4. Make Sure You Separate the Floss First 
Next on the list of embroidery tips is learning how to separate your floss. Separating the floss is simply separating the individual strands from the bunch. This will allow you to make cleaner stitches while learning.
Holding the piece of thread between your thumb and pointer finger you'll then use the same fingers of the opposite hand to pull each strand apart.  
5. Start off Using a Hoop 
Using a hoop is essential for beginners. A good hoop will keep your fabric steady as you practice your needlework. 
A wooden hoop with brass hardware should help keep the fabric stretched out as much as possible. Always opt for a bigger-sized hoop to avoid running out of space for your stitching.
You also don't want the edges of the hoop to bother you as you try to stitch so a bigger hoop resolves this issue. 
6. Back Stitching Is Important Too 
Once you start working on your embroidery patterns you have to keep in mind that the stitching on the back of the fabric might be visible. It's important to keep the backside neat as well. 
One way to do this and hide any loose ends is by pulling your thread through the back of the stitch several times. This is a good way to end a stitch and move to another part of the fabric without making the stitching look messy. 
7. Make Sure the Thread Is Secured 
In the beginning, as you're learning the basics of stitching, you'll have to find a way to secure the thread so that the work you've done doesn't come undone. 
While tying a knot might not look so clean this is the best way to learn how to end a stitch when you're first learning. Cutting off any excess thread will help make your work look neater. 
8. Good Scissors Are Essential 
Besides the threads and needles, another important tool to have in your embroidery kit is a good pair of scissors. Any old pair of scissors can make your process harder though. 
When looking for scissors you'll be using for embroidering remember to opt for something smaller and sharper to help you cut that very thin thread. For other embroidery supplies, you should check out CousinDIY. 
9. The Fabric You Choose Can Make a Difference 
Starting with the right kind of fabric to embroider on can make the learning process easier. A quality fabric will also make your embroidery look better.
Thicker stitching will require a stronger fabric while more delicate stitching will work better on lighter fabric. Linen, silk, and cotton are common fabrics that are great for beginners. 
10. Choose a Good Place for Your Embroidering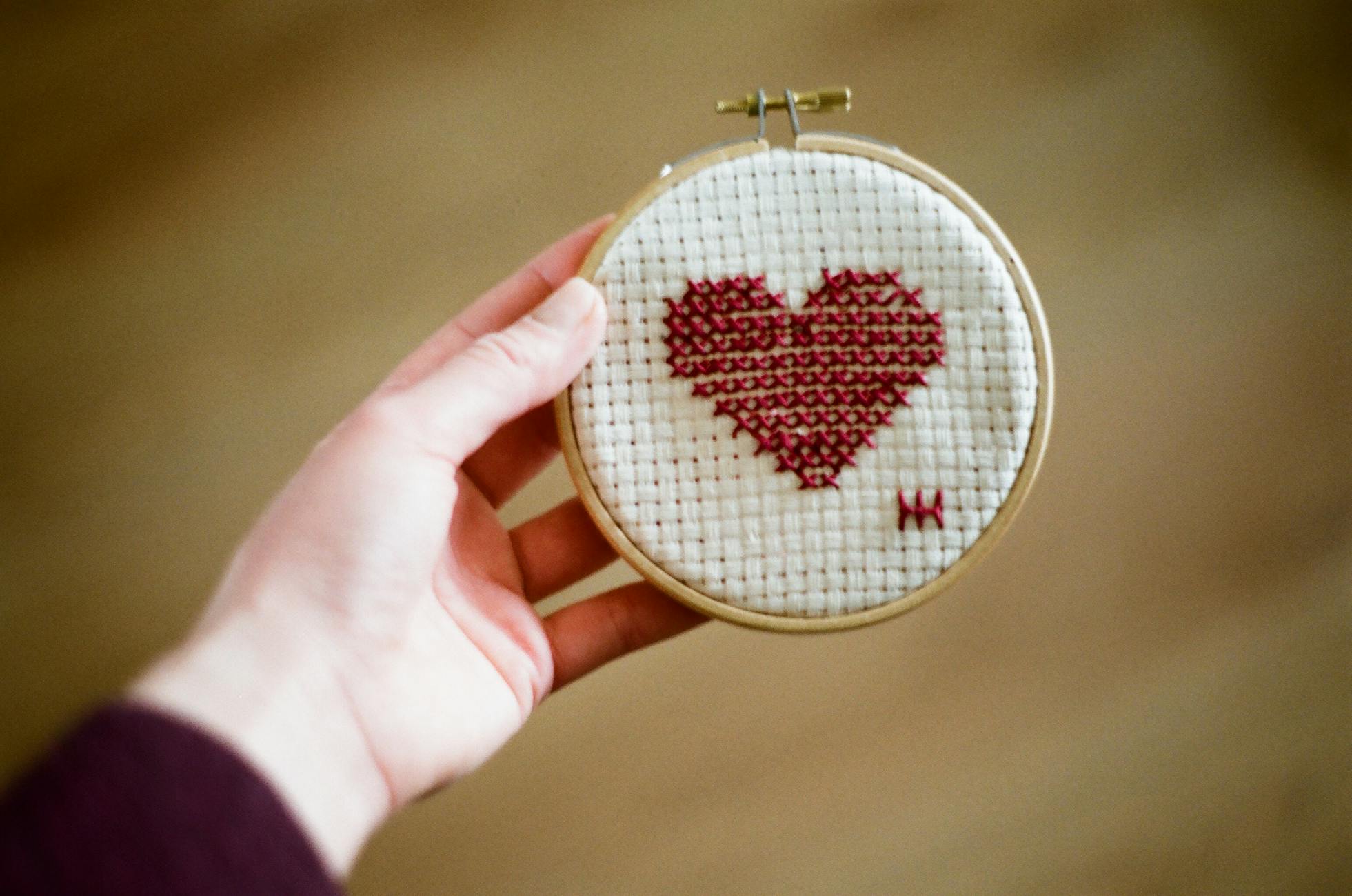 Last but certainly not least on this list of tips for embroidery beginners is finding the perfect place to do your stitching. You might want your very own craft room where you can keep all your tools organized. You might be fine with a small nook where you can sit comfortably. 
The important thing to keep in mind is sitting in a place with good lighting so you're able to see what you're stitching is vital, especially if it's something smaller. 
Everything You Need to Know About Embroidery for Beginners
Embroidery is a difficult craft to learn but by following the embroidery for beginners tips listed in this guide you'll become a pro before you know it!
Did you find this article useful? Make sure you check out some of the other blogs on our site too.