Whether you're moving in for the long haul or just going out on the road for the trip of a lifetime, you must make your RV feel more like a home than a vehicle for travel. These simple and speedy solutions will ensure a pleasant and relaxing atmosphere for you and your guests.
1. Keep Things Tidy and Organised
Life on the road in an RV may get very messy. However, the decreased time needed for tidying and cleaning is one of the most attractive features of downsizing one's living quarters. Due to the decreased living area, one of the best ways to ensure that you do not have items lying around is to get creative with storage and tucking things away. You should also bring goods you are sure you will use, as having excessive clutter will make it much more difficult to store items. 
A daily cleaning routine is an excellent method for maintaining a neat environment, as it reduces tidying times and keeps things from piling up over several days. It is possible to clean floors swiftly when you have handy cleaning instruments, such as a vacuum cleaner, a mop, and a bucket.
2. Add Photographs or Hang Wall Decor
Display a canvas painted by your preferred artist or hang a motivational statement to let your unique individuality shine through. Adding flair to your RV and giving it character may be accomplished in a fun and simple way by filling empty wall space with art and stencils. When looking for artwork, picking pieces that are the appropriate size for your RV is ideal. The most important thing to remember while selecting decorations for a vehicle is that they should be lightweight and resilient against bumps in the road.
Personalizing the space by including photographs of friends is another way to infuse it with warmth and coziness. Taking some images of the people you care about with you can make you feel more at peace and allow you to take a part of your loved ones with you wherever you go. It's easy to give the impression that your home on wheels is snug and welcoming just by adding a few decorative touches here and there.
3. Use Accessories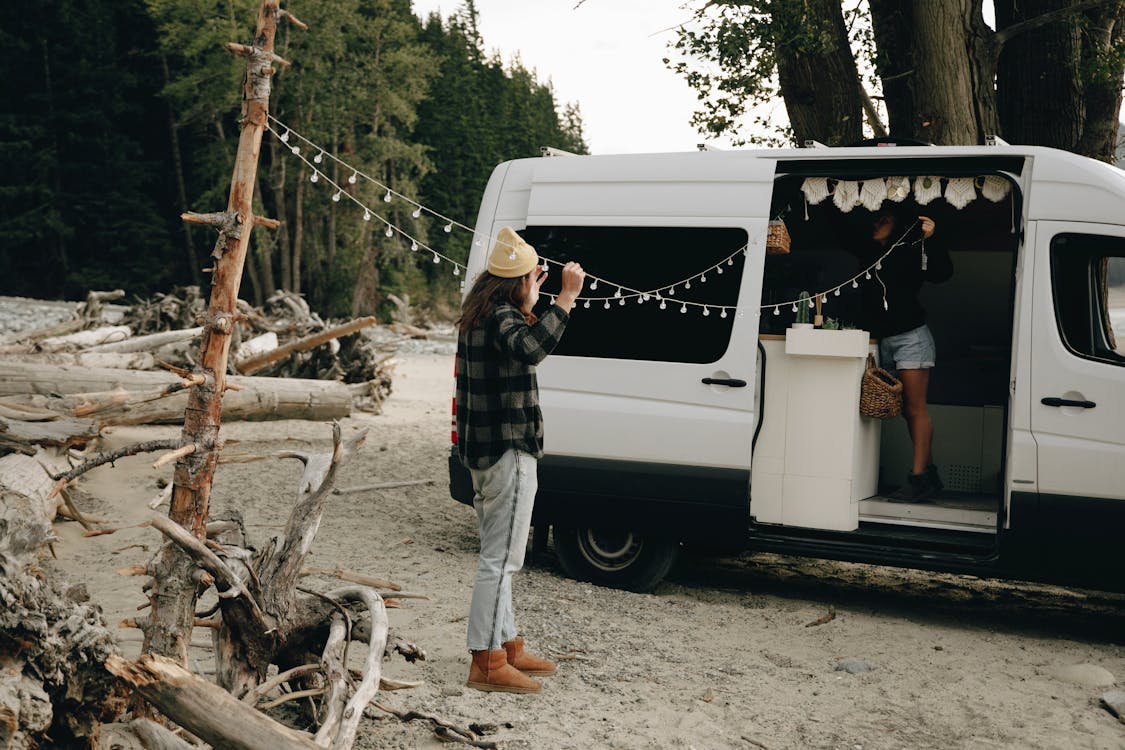 Adding a few soft and plush touches can go a long way toward making your RV feel like a home. Adding fluffy throw blankets, warm, comforting rugs, and lovely cushions can help create a cozy and appealing environment. Using textiles in your home design is another excellent method for bringing a splash of colour into the space. Putting colorful throw blankets and cushions in your RV will give it a lovely style boost of energy and movement. 
Each of your loved one's personalities and character can shine through in how they decorate the common areas of the house, which helps it to feel more like a home. However, not all decorative elements are likely suitable for transport. It is essential to search for ones that appeal to everyone, considering they must withstand arduous terrain and open roads.
4. Make Use of Scents
It might be difficult to unwind in a confined place after a long day of travel, work, or sightseeing. You can make your RV and bedtime ritual more relaxing using aromatherapy. A pleasant aroma can help one relax, cleanse their head of stress, and appreciate their surroundings.
A space can be a warm and inviting atmosphere by using diffusers and candles in conjunction with one another. Creating a pleasant aroma throughout your RV is one way to accomplish this goal throughout the vehicle. Choose essential oils and candles with a perfume you enjoy, then choose your favorite scent. While using candles, you should always ensure they are in a clear space with adequate ventilation, away from combustible objects and pets.
5. Expand Your Living Space to the Outdoors
Access to an outside area that you can enjoy and unwind in is of the utmost importance if you go away for an extended period. Place an outdoor rug, folding chairs, and a table on your patio and set it up so that your awning shades it. Even something as simple as having a BBQ would be a good idea. It's nice to have the comforts of home on the road, and items like these will significantly assist with that.
Increasing the size of the living area helps the RV feel more like a home and creates additional space for various forms of leisure, such as listening to a podcast, reading a magazine, or playing online Net ent games. In addition, once darkness falls, string lights as a decorative element will provide an ethereal and enigmatic atmosphere.
6. Make Use of Mirrors
Let's not sugarcoat it: even the largest RVs do not come close to matching the square footage of a typical house. The RV, however, can feel much larger if mirrors are positioned appropriately throughout. If your RV is on the smaller side, you'll appreciate this.
Imagine staring in parallel at two mirrors simultaneously; the reflections appear to continue indefinitely. Similarly, adding mirrors to your RV produces an illusion of depth. They also reflect light, making your rig's interior brighter than otherwise. Remember that if you put mirrors in your RV, you need to ensure that they are attached to the walls accurately and securely. They shouldn't be able to move at all.
Conclusion
Whether you are on vacation in an RV or have moved your life on the road completely, you get to take along all of the comforts of home with you.
As you've seen in this post, there are many ways to turn a small space into one that is friendly and inviting, where you and your loved ones can spend quality time together and create lasting memories.