Recently updated on October 25th, 2022 at 11:10 am
Your favourite personalised photo prints deserve to be a focal point in your space. Most people tend to display their favourite photographs in a traditional way – such as in a photo frame or photo book. While both of these practical options work perfectly well in showcasing and preserving your happy memories, they are somewhat lacking in originality, creativity, and fun.
If you're looking for fresh display ideas for your favourite family portraits, or wedding, holiday, milestone occasion or special event photos, here are 5 fun solutions you can try today…
1. Use Props
The visual appeal of a collection of themed photos can be instantly upgraded with the use of props. Natural elements like a fallen tree branch, twigs, evergreens, pebbles and rocks can be effectively used to create unique décor for any room in your home.
Show off your favourite family holiday snaps by stringing them up and suspending them from a beautiful twisty branch that is hung on the wall. You can attach multiple prints to lengths of twine or coloured ribbon with mini pegs or paper clips. Play around with the dangling arrangement until you have the easy-on-the-eye balance just right.
If you don't have hanging space available, use an array of natural stones to prop up a favourite photo. Choose two stones that are roughly the same size, and place them together side by side. Insert your print in the gap in between, for instant frameless display.
2. Explore Small Spaces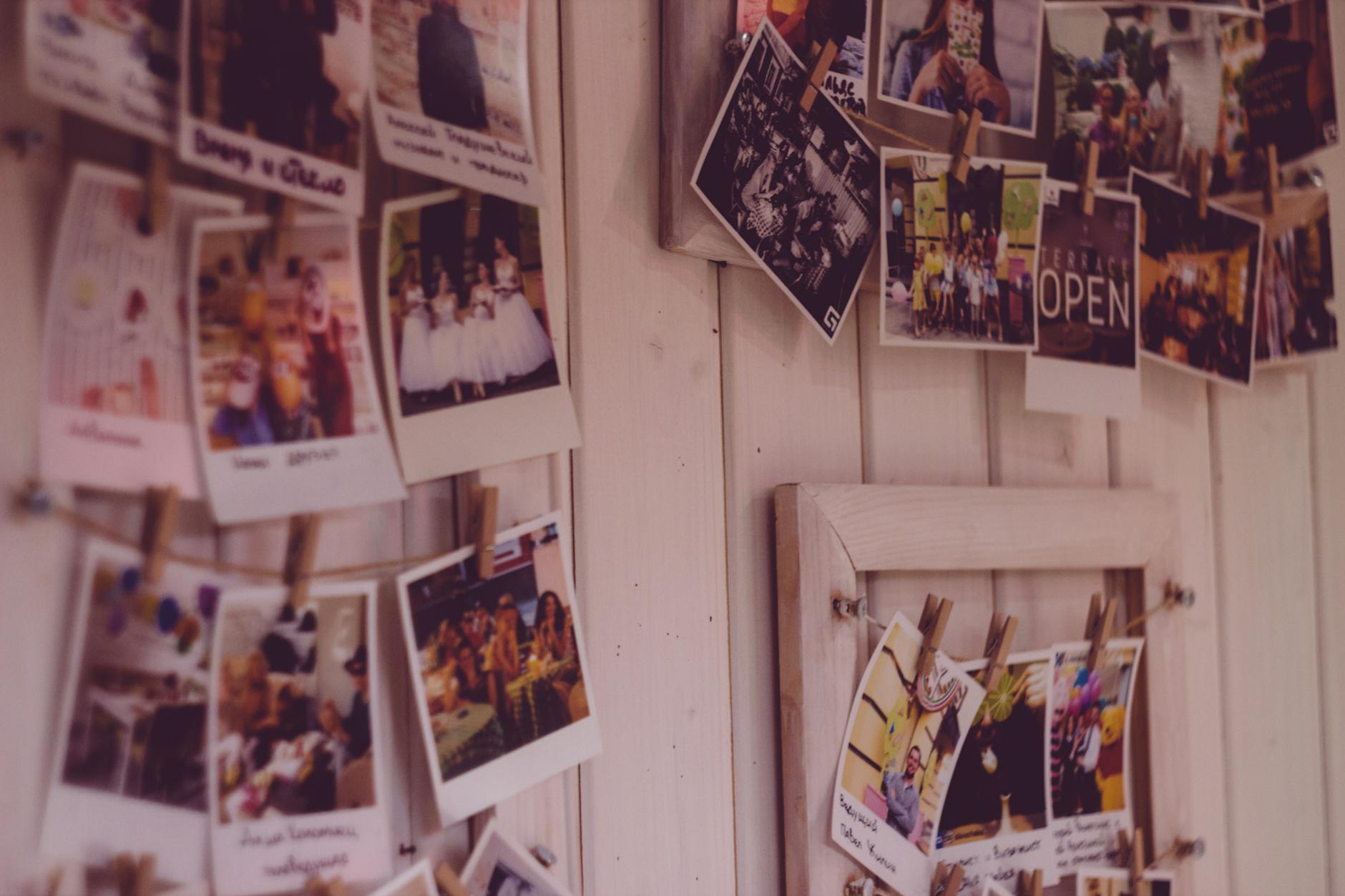 Standard personalised photo prints are the perfect size to feature in a compact, square shaped block stand that you can display in a small space. You may have the ideal area available on a book filled shelf or bookcase in the hall or living room, on a nightstand or table in the bedroom, or on the kitchen windowsill nestled in amongst pots of growing plants or herbs. If you're crafty and handy with woodwork tools, you can make your own sleek reclaimed wood block. You can also buy them ready-made.
Mini metallic binder or bulldog clips offer endless display options for that fun photo of you looking cool in a glamorous party outfit, your smiling kids happily playing on the beach on holiday, or the much-loved family pet. They're great for creating individual photography displays, or for grouping together themed photos. You can even use them to draw attention to instant Polaroid snaps, and strips of photo booth prints.
3. Create A Gallery Exhibition
To add interest to a plainly decorated hallway and staircase in your home, just add a photo gallery. This prime area typically offers the largest blank canvas for you to create a stunning and unique work of art, via the medium of your favourite personalised photo prints.
If you have space for a sturdy wooden photo ledge or two, make sure that you position them out of the way of household traffic. The empty space above internal door frames is yet another excellent place for a ledge shelf display of beautiful photos. Mix and match different print sizes for maximum visual impact.
You can alternatively hang an extended 'washing line' of natural twine along the entire length of the hall wall, and peg up a row of striking photos at eye level.
4. Showcase A Favourite Photo
Every room has a prime spot that is usually reserved for your favourite décor accessory. This could be a coffee or side table, a fireplace mantel or a shelf. Instead of displaying a favourite snap in a traditional frame, use a stylish mini easel to elevate your photography skills.
Place your favourite photo on the ledge of the easel, and stand back to admire the imagery. The small tabletop easel allows you to easily swap the photo on display whenever you fancy a change of focal feature.
Better still, you can highlight your easel photo with a strategically positioned lamp, or creatively embellish the alternative frame with a string of twinkling lights draped over the top of the small stand.
If you have a wall in the living room that is crying out for decoration, you could always hang an elegant picture light, in a style that matches your interior décor. It's best to choose a gallery model that is slightly narrower and adjustable, so that you create the best effect. You'll then be able to shine a light over a framed large sized print of your favourite photo. The radiant glow from the sleek or curvy picture light will make your photographs look like works of art.
5. Fresh Ways With Furnishings
Your home has a multitude of fresh ways in which you can display your favourite snaps. Look around your interior space to find fun places that you can repurpose and decorate with a selection of photos. A room divider screen can be easily transformed into a photo wall, with the addition of a striking grid arrangement of stunning images.
Use funky washi tape in contrasting or complementary colours to frame each photo and secure it to the screen. If you're worried about damaging your personalised photo prints or painted surfaces, use poster tape to attach the snaps.
Internal doors, and wardrobe, cupboard and dresser doors (with or without glass panels) make excellent backdrops for artistic exploration and expression. This simple, effective and creative fun photo display idea can easily be updated, every time that you have a new batch of photos printed.