There's a ton of appeal to having a home theatre. Whether you're looking to have regular movie nights with family and friends, or just want to be able to relax in your own space with the perfect cinematic experience, a home theatre can totally change the way you enjoy film and television.
But if you're working with a tight budget, setting up a home theatre might seem like an impossible task. Luckily, it doesn't have to be!
With a little bit of planning and careful spending, you can easily set up a home theatre that won't break the bank.
Here are some tips on how to make a home theatre on a budget.
1) Choose the right TV
First, you'll need a screen. However, you won't want a run-of-the-mill TV screen; you'll want a huge one.
A 10-foot-tall and 30-foot-wide perimeter is a good starting point, but you're free to alter these measurements. Your movie room's size, optimal viewing distance, visual acuity, and the available TVs for sale in your area should all play a role in your purchasing decision.
Second, you'll want to ensure that the resolution is high enough to provide a quality cinematic experience.
If your budget allows it, a 4K resolution screen is the best option. However, if you're working with a tighter budget, you can still find screens with a resolution of 1920×1080 or higher.
2) Get a sound system
Once you have your screen, the next most important piece of equipment is the sound system. The sound system is what brings the movie to life, immersing you in the action and providing you with a delightful auditory experience.
A good sound system can be notoriously expensive, but there are a few affordable options that still provide great sound quality. One option is to buy a soundbar. A soundbar is a bar-shaped speaker that sits below or above your TV screen and provides surround sound without the need for pesky installations.
While we want our build cheap, we don't want it too cheap. Good soundbars that provide surround sound and bass qualities are tantamount to high-quality home-theatre setups. So start from there.
3) Get a media player
You'll want something to play your movies and TV shows on, and that's where a media player comes in.
While most TV systems and some soundbars come with built-in streaming services, a media player can be ideal for those with a catalogue of Blu-ray disks. For media players with 4K capabilities, this can help you watch movies in much-better quality compared to some TV systems.
If you don't have a media player, don't worry. Most new-gen gaming consoles also double as great media players, namely the PlayStation 5 and Xbox Series X.
Note: You don't need to purchase a dedicated media player if your TV or soundbar already has streaming capabilities.
4) Add stylish and comfortable seating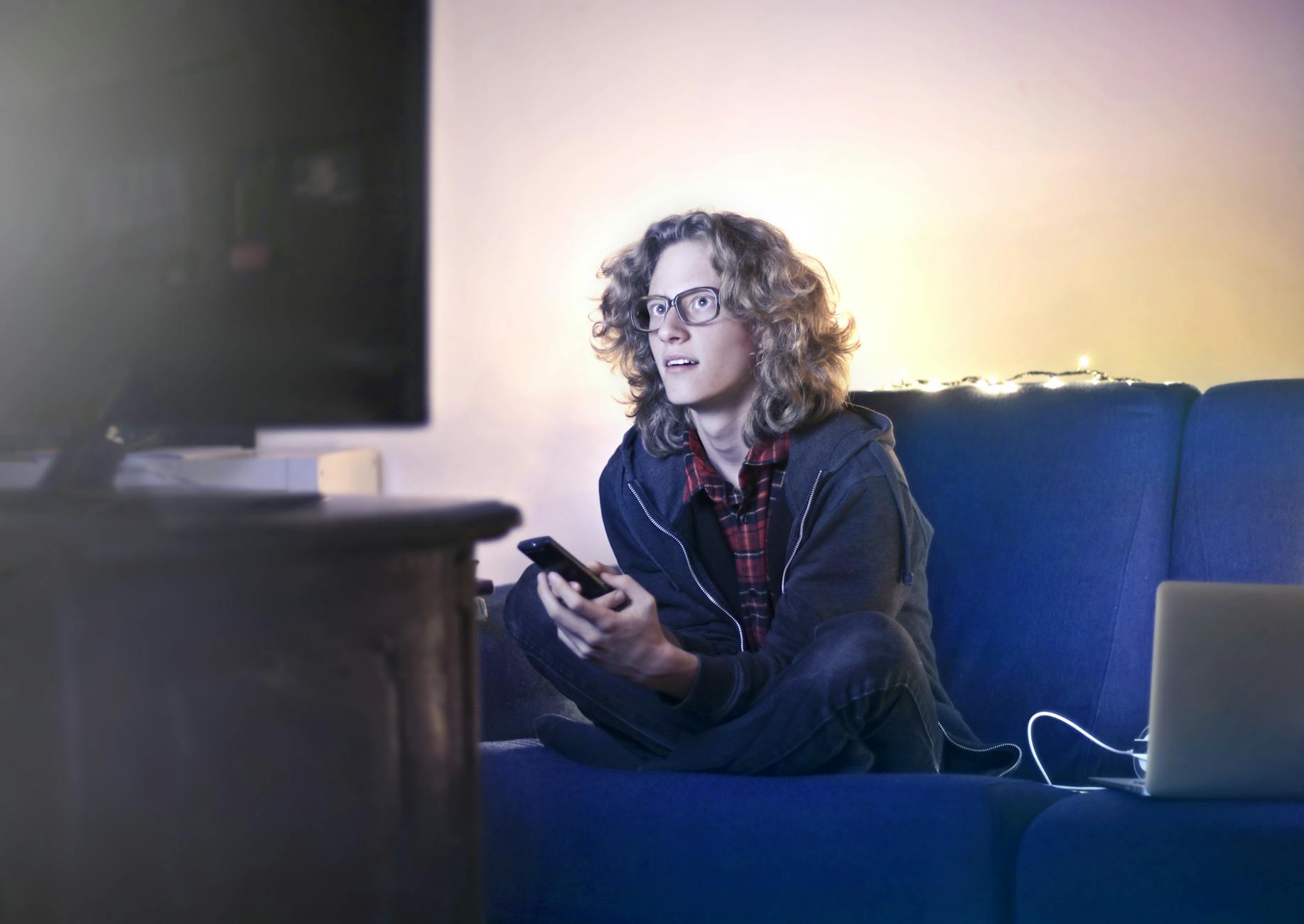 Let's face it, no home theatre isn't complete without comfortable and stylish seats.
Start by looking for seats that have good lumbar support. This is especially important if you're going to be spending a lot of time in your home theatre.
Second, keep the viewing distance in mind. You'll want to select seats that allow for a good viewing angle from wherever you're sitting in the room.
Finally, think about your décor. A plain black or brown sofa might not be the best option if you're going for a sleek and stylish home theatre look. Try to find a sofa or chairs that match the style of your home theatre.
5) Get a projector
If your home theatre's area size is big (like, really big), get a projector. Projectors can project displays from 100 inches to 300 inches, so they're perfect for those who want a truly immersive experience.
Many high-quality home cinema projectors are notoriously expensive (some ranging up to $40,000). However, some go for just under $200 and can already display photos and movies with near-perfect colour and visual accuracy.
Note: You'll only want a projector if you're not planning to make your TV the centrepiece of your home theatre.
6) Accessorise to complete the look
Home theatres are all about the details, so don't forget to accessorise.
One way to do this is by getting a TV mount. A good commercial TV mount will allow you to swivel, tilt, and adjust your TV to the perfect viewing angle. This can be a game-changer if you want to optimise your home theatre for both movies and video games.
Another way to accessorise is by adding some lighting. Dimmable lights can help set the mood for your home theatre and make it more comfortable to watch movies in the dark.
And finally, consider getting a universal remote. A good universal remote will allow you to control all of your devices with a single remote, making it easy to change between watching TV and streaming a movie.
When it comes to home theatres on a budget, it's important to think about what's most important to you. Do some research before diving into any purchase decisions and you will be sure to be rewarded with a home theatre set up that you and your family will cherish.