Recently updated on October 25th, 2022 at 11:16 am
When it comes to wearing a watch, you may not think there's much to it. Pick a watch, secure the band, and go. While there isn't much more to it than that, a certain amount of discernment is needed to wear a watch without letting it wear you.
Knowing the guidelines to match watches with your style will give you that edge to exude confidence and competence. Keep reading to learn the ins and outs of how to wear a watch.
Basics on How to Wear a Watch
Should your watch be on your left or right wrist? Tradition dictates a watch goes on the opposite of your dominant hand. If you're right-handed, your watch would go on your left wrist. This method helps extend the life of your watch and allows you to check the time while you're writing, on your phone, eating, etc.
While this is a general guideline, it is not a hard rule. If you like having your watch on your dominant hand, no one is going to call the fashion police.
Once you've decided which wrist gets the honor of wearing your watch, make sure you secure it with the dial (or face) on top of your wrist. If you're wearing long sleeves, your watch should only be visible if you bend or cross your arms.
While some opt to wear their watch on the inside of their wrist, this leads to extra wear and scratching regardless of which wrist it's on. This look also does not lend to good first impressions or formal occasions. In case it needs stating, never put your watch on over your shirt sleeve.
Once secured to your wrist, your watch should be tight enough to prevent it from slipping off, but loose enough to move an inch up or down as you move your arm. If you take off your watch at the end of the day and see an imprint, your watch is too tight.
Styling a watch with your wardrobe is straightforward. Light watches go with light clothing, dark watches go with darker clothing.
If you have a watchband made of leather, it should match the color of your belt and shoes. If you have a metal band, make sure the rest of the hardware in your outfit (belt buckle, cufflinks, rings) matches. For example, if your watch and band are silver, choose a belt with a silver buckle.
Now that you know the basics of how to wear a watch, let's talk about types of watches.
Which Watch To Where (and When)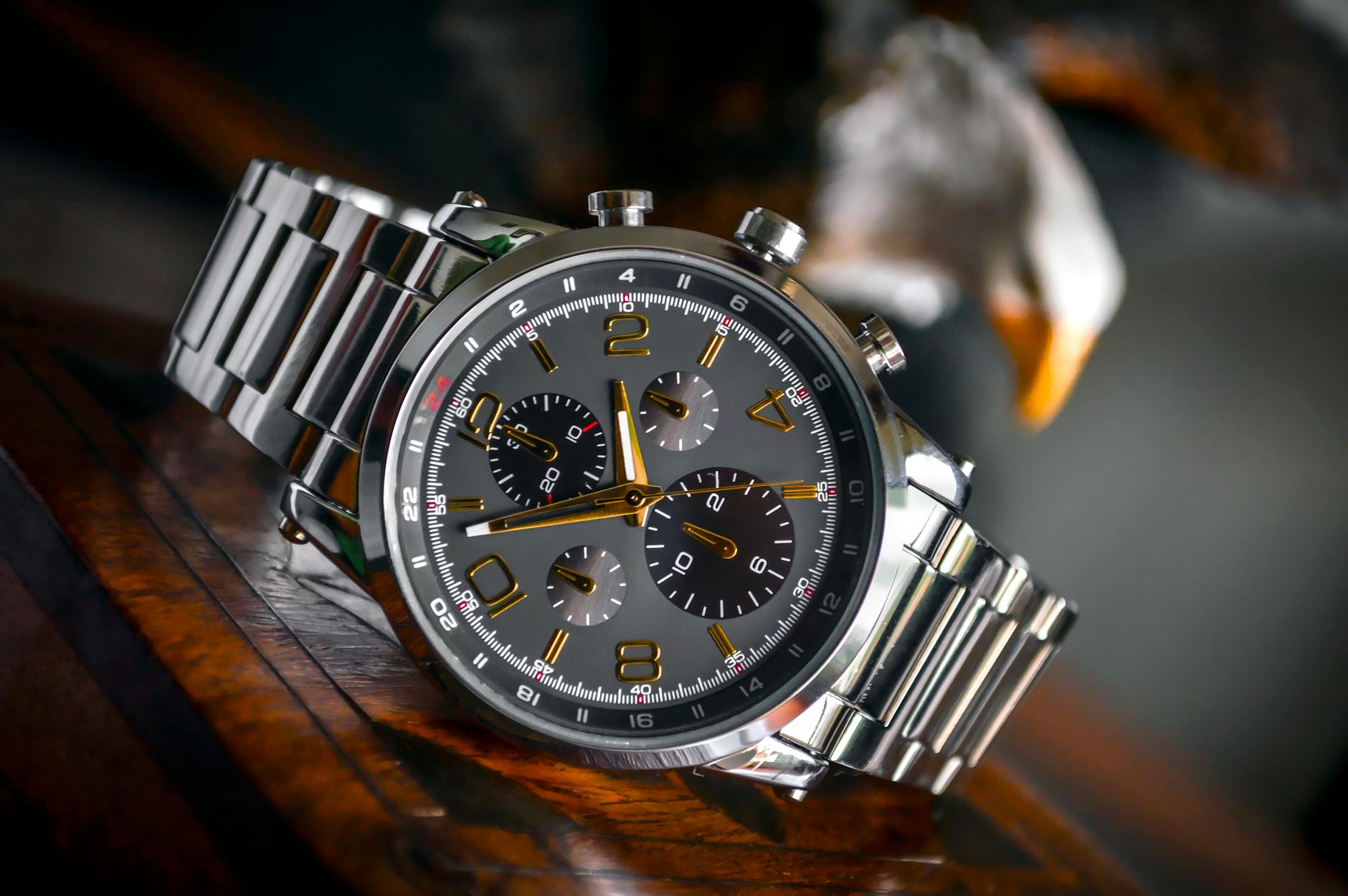 Men's watches come in a variety of styles for every occasion. We'll go over the different types of watches and examples of the best way to wear them.
For everyday wear, opt for a dive watch, digital watch, or aviator watch. These watches offer style and function as well as comfort. For physically demanding activities, go with a field watch or a sports watch. These are designed for strenuous activity and durability.
For formal occasions, dress watches add a subtle but striking level of sophistication to your suit. If you only plan on having a single watch, any jeweller will recommend that watch be a dress watch. Its simplicity and style make it the perfect complement to a black-tie event and elevates your casual style as well.
Watch Style to Impress
Knowing how to wear a watch is as easy as telling time: you never forget once you know the basics. Now that you know the best way to style a watch, your style is sure to set you apart.
For more tips on men's fashion and success, check out our Lifestyle and Business archives.