There's nothing that gets jaws dropping quicker than a stylish, well-fitted, and perfectly matched suit. When you put on a suit, you should feel like James Bond — and if you don't, you're doing something wrong.
You know how to wear a suit, put it on. But do you know how to look good wearing a suit? Here are five essential tips to make sure you're always looking your best.
1. Avoid Baggy Trousers – Baggy Anything, In Fact
Gone are the days when oversized suits were a hot fashion trend. These days it's all about tailored suits that fit snugly and accentuate your physique. Baggy trousers are unflattering and immediately make a suit look sloppy.
Similarly, you should choose a suit that fits your shoulders well and sleeves tailored so that they aren't too long or short.
The best thing is to go to a suit fitting so you can get a suit that's tailored to your body.
2. Use Details for Personality
If you have to wear a suit all-day-every-day, your style can become a bit stale. How are you supposed to show your personality? Use small details and suit accessories to add a pop of personality to your attire.
Choose tie sets that are high-quality and are patterned or brightly colored. Add a pocket square or choose unique cufflinks. These minor details will set you apart from the rest.
3. Wrinkled Suits Are a No-No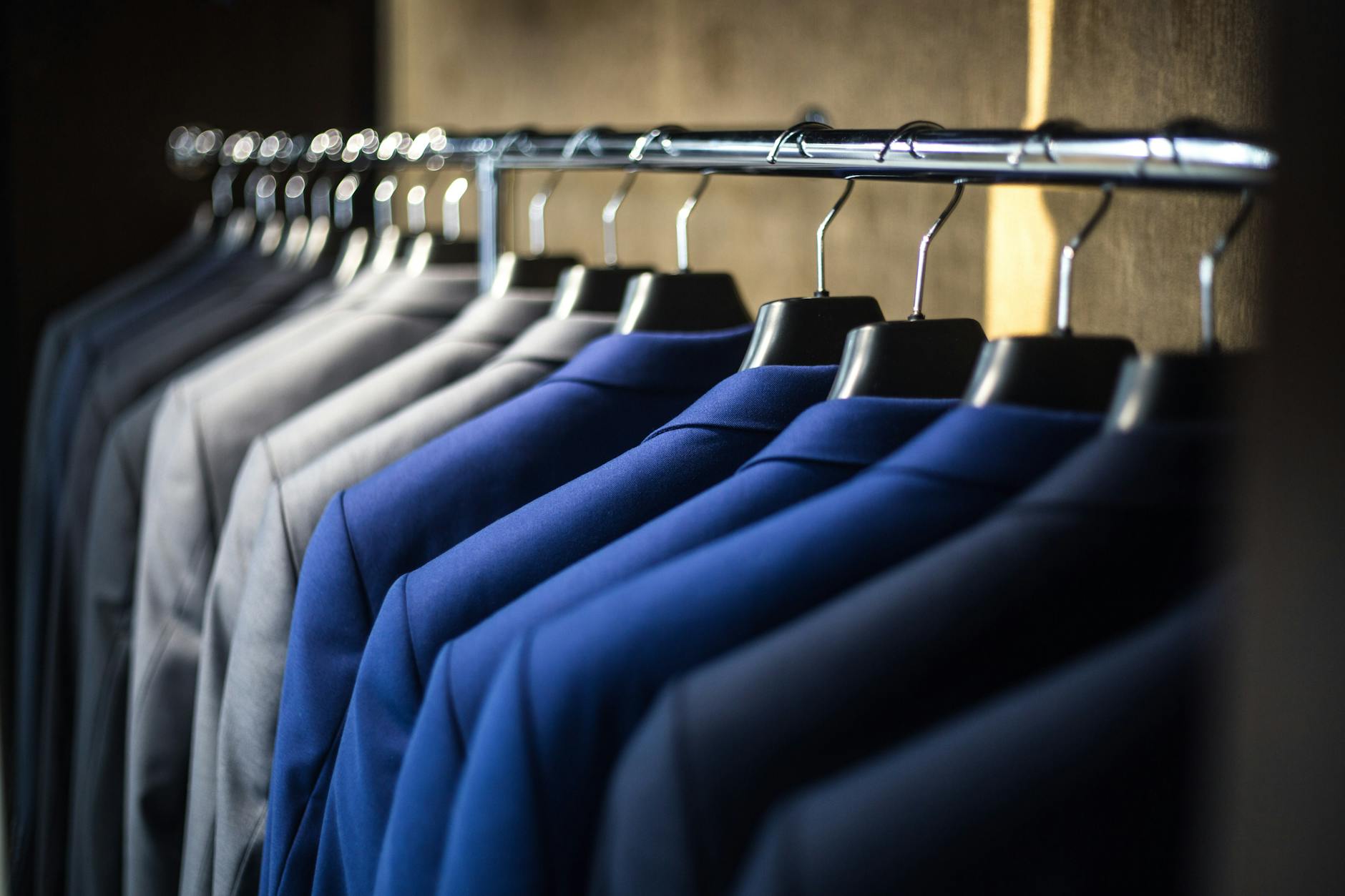 Regardless of what suit you have, how well you've matched the colors, and how well-fitted it is, a wrinkled suit is a sure-fire way not to look good. Even the most minor wrinkles will become the center of attention rather than your stylish attire.
Have your suit dry-cleaned before you wear it, or use a steam iron to do it yourself at home.
4. Expose Sleeve Cuffs
Long jacket sleeves are out of date and will make you look messy and unkempt. For a classy and elegant look that's simultaneously understated, expose your sleeve cuffs by half an inch.
5. Consider Suit Colors
Suit colors are not just about the different types of suits and their hues and patterns but also about accessories and other clothing items. If you're wearing a navy, black, or grey suit, opt for darker color shoes. Choose brown shoes when your suit is warmer colors.
Don't overlook sock colors, either. You could wear funky socks to represent your quirky personality. But if you're attempting a more classic look, your socks should always be the same color as your trousers.
Your tie should be darker for a polished aesthetic than your shirt so that it creates a balance and isn't washed out. Never match the pattern of your tie to your shirt; otherwise, it turns into a camouflaged look which is never a good idea when wearing a suit.
Are You Wearing a Suit the Right Way?
Are you guilty of some fashion faux-pas like baggy trousers or terrible color combinations? With these five tips, you'll always look stylish and clean-cut when wearing a suit.
Did you enjoy this article? Our site is full of awesome content just like this — keep exploring for more!