Recently updated on October 25th, 2022 at 12:08 pm
Been with Apple for years? Are you planning your first MacBook?
With Apple rolling out a new operating system, you'll want to learn about all the new features before updating.
Since 44.8% of people in the US use Apple devices, it's become a household name in technology. This means that new improvements and changes are being made, especially with the new macOS Big Sur.
If you want to learn everything you need to know about it, keep on reading.
1. Display Design Update
Apple has applied several new changes to the overall look of your display.
The first big change you'll notice is the redesigned dock on the bottom of your desktop screen. It's now lifted off the bottom and edge and designed more translucent, with all the icons having a new design making them more recognizable. 
They've also made the menu bar taller to fill your screen from edge to edge. It's also more translucent and the words either lighten or darken depending on the screen. You'll also see that windows are lighter and have more space, making it look cleaner.
Along with the menu bar, the app sidebars are also updated. They now feature a new look to find, track, and organize things easier. There are even new symbols, not only in the sidebar but in the toolbars and controls as well.
2. New in Control Center
The new control center now lets you organize the settings that you use most often. The new favorite menu lets you have all your most-used controls located all in one neat space.
You can do this without having to go to System Preferences or look for a new feature in the settings.
All you need to do is drag and drop your favorite controls and features to the top of your menu bar. You can then easily access everything with one-click. There's even a new feature that lets you click to expand and view more options on a certain menu. 
3. New in Notifications Center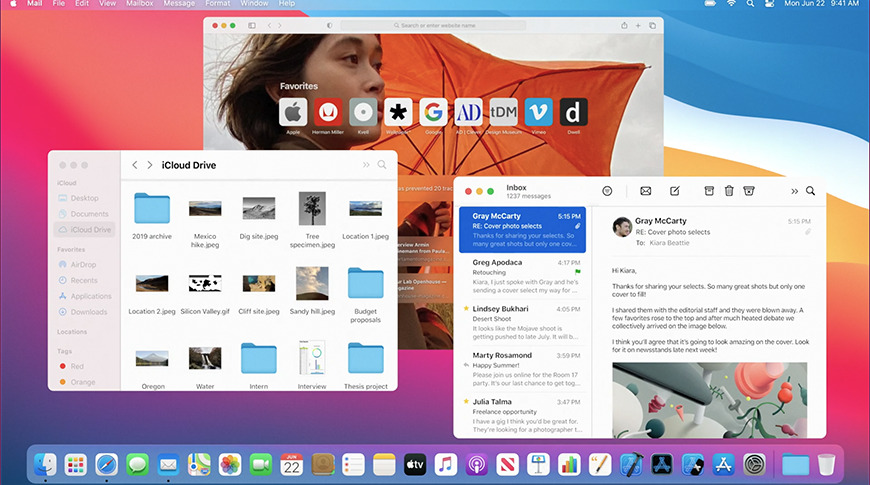 Image Source: appleinsider.com
You can now see all your notifications in one dedicated column, with all of them sorted by the most recent. The notification widgets are also included in the column, redesigned to make it easier to learn everything you need at once.
You can also do more with your notifications without automatically going to the app. On the notifications center, clicking on a notification opens up new options that you can do with it. If you want to take action or learn more, it only takes one click in the dedicated column.
There's a new option that lets you group your notification, either by app or by a thread. This lets you properly and neatly organize all your notifications so it doesn't look so cluttered. They've also redesigned the look of the widget and let you customize them to your preferences. 
4. Safari Improvements
The Big Sur System has come with a new look for the Safari browser. It now lets you customize the start page with your wallpaper and easy access sections. 
Aside from its appearance, Safari also optimizes performance. It's now the fastest browser you can use on your Mac device, and the most power optimized. This means that sites load even faster while lasting up to 3 hours longer.
There are even new features like previewing a website by hovering over the tab. There's even a new web page translation, although it's still in beta. You'll also notice a privacy report section that updates you on any blocked trackers on the site.
You can now easily get the browser extensions that you need in the new extension category on the app store. With new support for WebExtention API, you can access extensions from Chrome and bring them to Safari.
5. Updated Messages App
The new features on the messages app are all intended to make your experience smoother and help you navigate the app better. There's a new pinning feature that lets you pin your favorite conversations, allowing up to nine. 
If you have any old links, photos, or messages, you no longer have to scroll up every conversation. The new search experience organizes and finds what you need. You can do this by looking up any matching terms on the search bar.
Some extra features on Messages include being able to share your name and photo, setting group photos, and mentions in group chats. There are also new message effects, a Memoji editor, inline messages, and a better photo picker.
6. Revamped Maps
The new Guides feature helps you find the best restaurants, shops, or other sites to explore in cities all over the world. You can even save guides that you like to use them again later.
If you want to, you can also create your guides to help others find "best tourist spots in New York" or "where to get great burgers in California."
There's a new option to let you look around certain areas using 3D graphics. This lets you experience being in that area and gives you a 360-degree angle. 
One thing you might not have seen with other Map apps is the ability to look inside popular public areas. The new indoor map shows you a detailed look inside shopping malls, airports, and more. 
7. Extra Features 
There are also a bunch of little new things added. Some extra features you can find with this new operating system include improved privacy settings and faster software updates.
Other new extras include the following:
Automatic AirPods device switching

Optimized charging and battery usage

Sign language detection on FaceTime

"Listen Now" and improved search in Music

Better editing capabilities for videos and photos

Smart and organized Reminders

Siri web answers
There are more little changes to the different apps that you can learn about. You can check more about what is new on macOS Big Sur here.
Prepare Now for the MacOS Big Sur
This new operating system for Apple devices offers a lot of improvements and changes to the look and function of your device.
We hope that after reading this article, you have a better understanding of the new macOS. There's so much to unpack with this update—hopefully, we were able to give you a better grasp!
If you enjoyed this article and found it informative, go and check out the rest of our posts for more Apple and Mac guides like this one.