Employee reskilling and upskilling can help organizations become more competitive, enhance their goal-achievement process, and do more work in less time. As a result, more organizations are now prioritizing employee development.
But prioritizing employee development and knowing how to foster it are two very different things. And making just the smallest mistake can lead to high disengagement and turnover, which can be harmful.
So, the real question is: How can you encourage employee development so that it leads to your desired outcomes? Let's look at nine ways you can do that.
1. Prioritize Skill Development
When you're onboarding employees, you should provide training on specific skills that could help employees become more proficient at their jobs.
For instance, you could help accountants learn how you structure your pay stubs when they join by giving them access to a premium paystub generator. Or let sales representatives know the sales framework you use by running them through a short course. This will help them become better at their job.
Aside from that, onboarding training can help employees bridge gaps in their knowledge, allow managers to learn which employees will work best, and enable employees to learn that upskilling is prioritized in the company.
2. Develop Lateral or Upward Mobility
Once your employees know that your employee values upskilling, allow them to actually work on their skills and move up in the business structure. They could also improve their skills and move into other departments.
For instance, someone in a customer-facing role could move into a marketing role and work behind the scenes, while an employee working on the back end could move into a customer-facing role.
Similarly, a team leader could become a manager and later a shareholder.
3. Ask Employees to Suggest Learning and Development Topics
When you involve your employees in brainstorming sessions, they feel valued and more interested in doing better. Plus, they can provide insights and suggestions you may have overlooked or hadn't thought about.
These suggestions could prove valuable. Moreover, you could also ask senior employees to suggest development opportunities or topics for their team members. This will help them improve their areas of work.
4. Support Knowledge Sharing
If an employee knows something in more depth than another, you should encourage them to share their knowledge. For example, if a UX designer also has great editing skills, you should encourage them to moonlight as an editor if they wish.
Similarly, if a coder has amazing people skills, they should be encouraged to teach new CSRs.
5. Offer Development Resources
Creating an upskilling culture is essential to employee development but helping your employees know how to upskill is also important. For instance, when your employees know about a certain training opportunity, they'll be more excited to upskill. But if they don't, they might not.
So, if you're developing an upskilling culture, provide a list of courses, certifications, or workshops that could help your employees grow. They appreciate it.
6. Recognize Training Accomplishments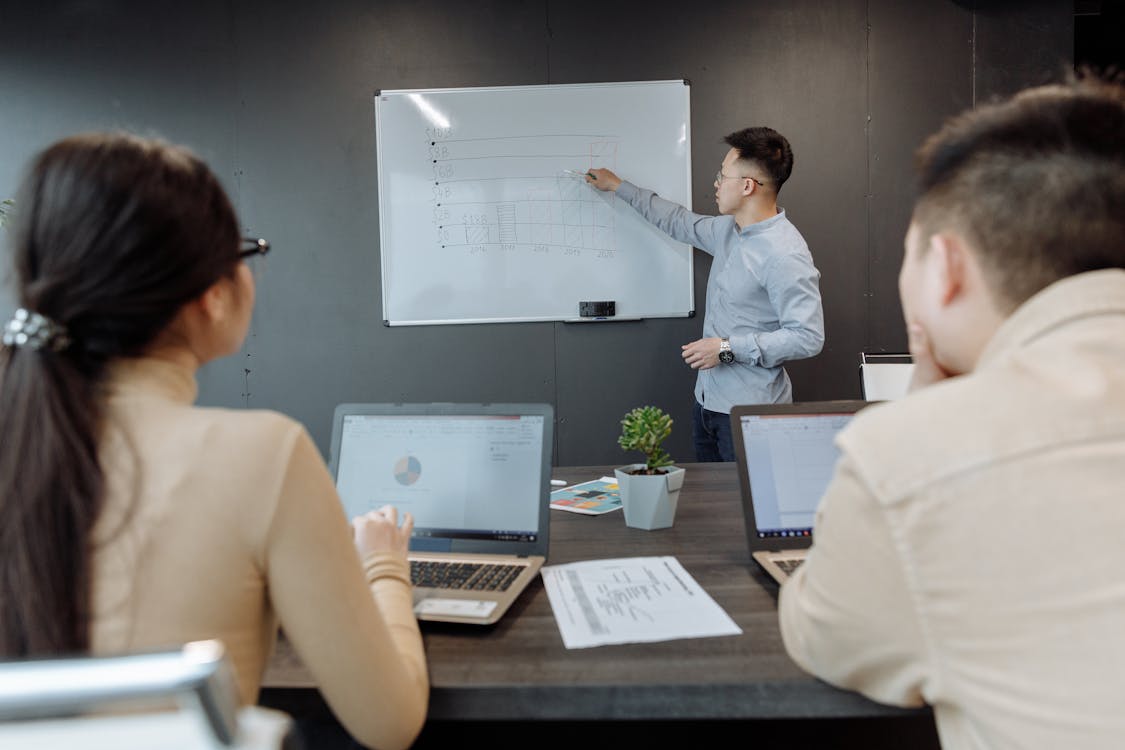 If an employee has done really well at something, recognize their accomplishment. Recognizing the achievements of your employees can help them become more confident in their skills and tempt them into learning more.
For instance, if you recognize a new hire has written an exceptional copy, they might be prompted to write even better next time. Similarly, if a UX designer has done an excellent job working as a CSR, then you should tell them so. Remember: encouragement equals accomplishment.
Personalized business thank you cards are also a good idea to recognize specific achievements or contributions, and can be given out on special occasions such as work anniversaries, birthdays, or after completing a particularly challenging project.
7. Link Job Title Changes to Training Completion
Connect training completion to title changes to encourage upskilling. What does that mean? Simply put, you should ask your employees to complete specific training to move upward and change job titles.
For instance, your employees could get an editing certification to move from a writer to an editor position. Similarly, they could get an SHRM certification if they want to move from marketing to HR.
8. Use External Training
External training can help employees develop skills you can't teach them in-house. For example, if you're a marketing company and want your employees to specialize in a subject your current workforce has no experience in, such as Salesforce, you should go for external training.
Aside from that, external training can help improve the skills of your existing employees and make them realize there are other opportunities to upskill and move upward (even to another department) in the company.
9. Offer Tuition Reimbursement
Tuition reimbursement is the best way to motivate your employees. It removes the fear of never getting returns from your employees' minds and helps them put their all into learning. Reimbursement could also help your employees attempt courses they never would've thought to.  
You could also set aside a yearly learning budget for each employee. It could be as low as $200. But it should be enough for an employee to get a certificate in their field. For instance, you could allot $50 to every employee per month and ask them to get certificates from Coursera.
The Takeaway
There are many ways you could help your employees upskill and work on their development, but the above nine are the most effective. So, if you're constantly being defeated by a lack of skill development in your office, try one of the above strategies.
They'll help your employees broaden their skill set and learn the value they provide to your business, which will encourage them to work harder and smarter.