Recently updated on October 25th, 2022 at 11:42 am
Did you know that the beauty industry is valued at over 530 billion dollars? And despite its massive growth over the years, it's still on an upward trajectory, growing faster now than ever before.
Because of this ever-expanding nature of the beauty industry, there are countless jobs available within it.
When you think of cosmetology careers, the first thing that likely comes to mind is a hairstylist. But there are so many other options, some of which you might have never considered!
To learn about some of the most unique options for a career in the beauty industry, so you can decide if this is the path for you, just keep reading.
1. Makeup Artist
In addition to the multitude of jobs within the beauty industry, there are numerous options within each career path. As a makeup artist, you'll have the option to work in a variety of settings, depending on your preference and passion.
For example, you can become an artist who specializes in bridal looks, helping brides feel beautiful on one of the most special days of their life. Or you could develop makeup looks for characters in TV shows, movies, and plays.
By choosing the latter option, you'll also have the responsibility of teaching actors about makeup and hairstyles. 
2. Fashion Show Artist
Not interested in movies and television? Perhaps your passion lies in fashion. If so, a career as a fashion show artist could be the perfect choice for you.
As a fashion show artist, you'll collaborate with fashion designers to create stunning looks for the runway. The style, hair, and makeup featured in fashion shows are often what you see on advertisements and the covers of iconic magazines such as Vogue. 
This isn't the easiest path to take in terms of beauty careers. But if you have the enthusiasm for fashion necessary to make it through the training and internships, you can have a fulfilling, fun career.
3. Special Effects Makeup Artist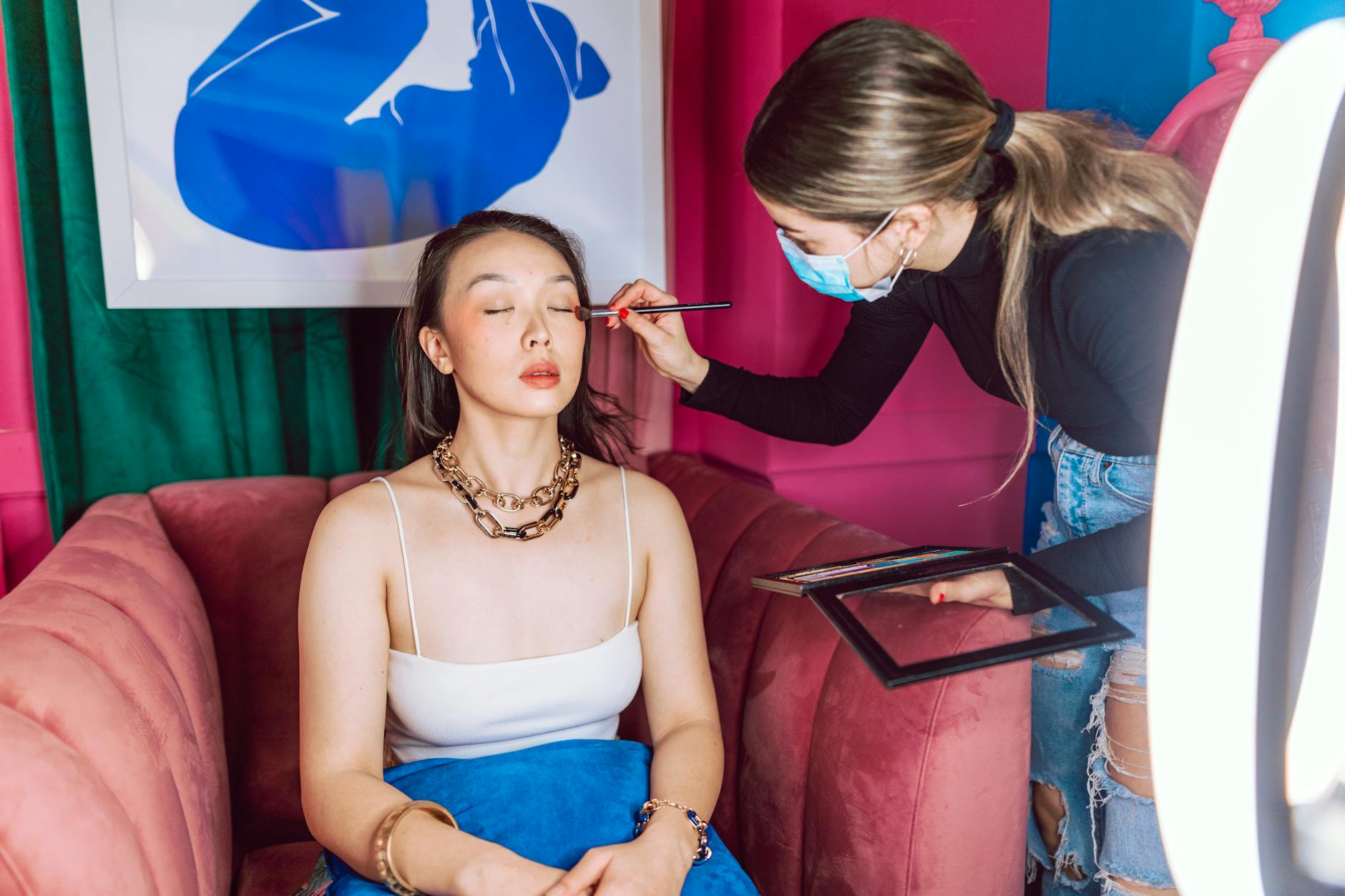 Maybe haute couture isn't for you, maybe you have a fascination with something a little darker. A special effects makeup artist has all the skills of a traditional makeup artist, combined with the ability to use latex, prosthetics, and other tools to create gruesome wounds, alien features, and frightening masks.
These artists often work in theatre or film, bringing even the most otherworldly characters to life through makeup. This career typically requires a degree in cosmetology, film, or theater, as well as courses specific to special effects and an internship to help build your portfolio.
4. Mobile Esthetician
The appearance of someone's skin can totally alter their perception of themselves. And sometimes it's just nice to get a facial! This is where an esthetician comes in. They are experts on all things skincare, including facials, body treatments, chemical peels, and waxing.
As an esthetician, you can work in a salon or spa, but if the idea of clocking in and out at the same place every day isn't for you, becoming a mobile esthetician is an option.
These professionals have all the same qualifications as a salon-bound esthetician, including education, licensing, and training. However, instead of your clients coming to you, you'll go to them. 
A day at the office could mean giving an actor a facial in their hotel room, preparing someone's skin for a photoshoot, or giving someone the full spa treatment in the comfort of their own home.
5. Tattoo Artist
Beauty is in the eye of the beholder, and some people feel their most beautiful when covered in tattoos! A tattoo artist combines an arts career with esthetics, creating gorgeous works of art, not on a canvas, but on a person's skin.
To become a tattoo artist, you'll need to receive formal training at a tattoo school, then work an apprenticeship with an experienced artist. Because on top of creating works of art, you'll need to familiarize yourself with the various types of tattoos, Visit Tattooing101 to learn about the history of tattoos as well as the rigorous standards in hygiene and tool care.
6. Editorial Stylist
Do you dream of seeing your work in magazines, television, and billboard advertisements? If so, an editorial or advertising stylist could be the job for you.
In this line of work, you'll prep models for photoshoots in a way that not only makes them look beautiful but captures the essence of the editorial piece or product that the pictures will accompany. You'll do the models' makeup and hair, and work with other fashion and advertising professionals to create a look that will capture the attention of millions.
7. Cruise Ship Cosmetologist
When you become a cosmetologist, you of course have the option to work in a traditional salon or spa setting. However, if you're on the adventurous side, you might be better suited for a cosmetology career outside of the norm.
If this sounds like you, consider becoming a cruise ship cosmetologist! You'll have the opportunity to help people with their hair, skin, and nails while traveling to new places and seeing new things every single day.
Get Started in the Beauty Industry Today
By making slight alterations to someone's appearance through makeup, skincare, even tattoos, you can completely change the way they feel about themselves. If you have a passion for helping others to feel their best, a career in the beauty industry might be for you. 
And as you can see, whether you dream of working on a runway, a cruise ship, or behind the scenes for a magazine, there's a beauty career that fits the bill. 
Interested in learning more about the many facets of the beauty industry? Take a look at our blog!