In this modern age, the use of the social platform is becoming a trend. It is really difficult to find a single person who is not engaging in social platforms. Instagram is one of the famous conventional media platforms in the world. However sites like Instagress are not recommended to use at all. You can find many authentic alternatives to boost your profile. With more than 1 billion monthly users Instagram has become the most used platform. Besides every day 500 million active users on the app. 
Not only consumers are using Instagram to share the content but also the topmost brands on the earth are actively presence on Instagram. The brand is using Instagram to build brand value, introduce the brand name, promotional offer, & sell products & expand the services.
There's no chance to deny the power of Instagram to reach the audience. So, why not take the benefit of this social channel? I am going to share 25 best & popular photo editing for Instagram. The apps that help to make your image eye-catchy & to make your posting & sharing stories experience easier & appealing.
Photo Editing Apps For Instagram On Android
Image Source :thenextweb.com
1. Canva
Canva is a social media image powerhouse. It provides custom image creation for most major social platform Instagram. It has an exclusive graph feature. The brand who want to create infographic, style graphic for Instagram posts, you can leverage canvas beautiful collection of flow charts, diagrams, maps & more. Stock pictures are available in Canva that you can use as Instagram's post.
The basic feature is free but the business-class feature will cost $12.95/month.
2. Pixlr
Pixlr is one of the robust editors that is fully free. It provides full control over editing your images including layers & effects. Moreover, with 2 million overlays, effects & filters Pixlr offers to make your image unique & extra-ordinary for your brand. It also provides the popular collage maker that helps to create a one-glance mini album. It is convenient & user-friendly. It can automatically save your work all the time.
3. SnapSeed
Snapseed is free & one of the best apps for photo editing for Instagram. Snapseed providing 29 filters & tools & lets you customize filters & saved them to be used again later. Moreover, Snapseed allows overlay a caption onto the photo using 38 different font styles. Though it has a vast feature some users report navigation difficulty when using. So, if you want to use it to take a little time to introduce yourself with its features & navigation.
4. Fotor
If you are looking for light editing tools then Fotor is the best. Fotor is the basic & reliable photo editor that is free. Though it provides a light feature yet the feature is too efficient. Fotor provides various kinds of effects, filters & curve tool that is really amazing. 
5. Photoshop Express
Adobe is the king of photo editing space due to its robust feature & flexibility. Adobe makes an alternate option with Photoshop Express that is a mobile-friendly, balance version of their fantastic photo editing software, photoshop. Photoshop Express allows you to edit photos, add text, play with colors, watermark images, create a popular college to show the product at a glance. It is too much user-friendly. This is a free app. You can avail of the premium feature if you have a paid adobe account. However, it's free feature is really marvelous.
6. Touch Retouch
As a marketing content maker of Instagram removing unwanted objects such as wires, trash cans, etc is a must. To be a smart user of the social platform you don't like unnecessary things on Instagram images. Touch Retouch is a simple & easy app that allows these removing. You don't need to have editing skill, you can fix the problem using a one-touch fix feature to remove simple imperfections. In case of advanced editing apply the advanced feature.
It cost only $1.99. All the above apps are available for Web, Android & iOS. 
7. AfterLight
Afterlight is a simple but classical photo editing tool that is easy to understand.
It is free for iOS & Android.
8. A color story
It has 100 filters & effects, 20+ tools to edit & a great community too. It allows to save your own modification & use it as a custom template.
Available for iOS & Android. It Charges $24.99/year.
Instagram Photo Editing Apps For iOS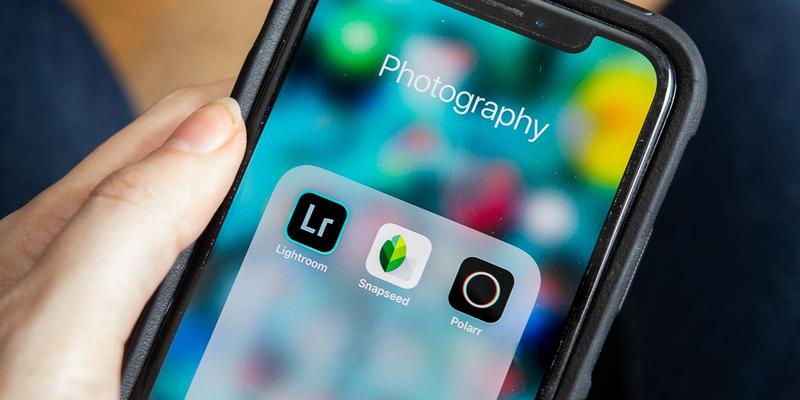 Image Source: thewirecutter.com
1. Afterlight 2
Afterlight 2 is an amazing editing app that is limited to iOS only. It is a wonderful editor that takes filtering to the next level. They provide a robust library of natural filters that enhances Instagram's existing options, help you to make your image more shining. Moreover, the app allows you to create your own design filters that make you different from others. You can modify your image hue, saturation & lightness. It allows overlay textures to attain the desired look you want.
This app's price is only $2.99. 
2. Path On
Path on helps to create typographic landscapes in images. It is easy to wrap text & create impressive enhanced images that are very helpful for Instagram promotional branding.
It is only $1.99.
3. Handy Photo
It is a fast & furious photo editing app that easy to use & free. Handy Photo helps to make your social posts attracting & special.
4. Splice
Splice is free simple editing apps yet powerful. 
Best Photo Editor for Instagram Story:
1. Unfold
Unfold transform your Instagram stories to the next level. It allows streamlined stories that look like hours to craft but took a few minutes. You can use beautiful videos, photos & text to make your normal Instagram stories into storybooks.
Available free for iOS & Android.
2. VSCO
VSCO is popular editing apps since photo editing for Instagram was as simple as attaching the filter & posting it. It has editing, filtering, frames & more but the specialty of VSCO's is its minimal interface. If you are hungry for a clean, crisp, easy-to-use app VSCO is a must for you. Moreover, it gives you the opportunity to share the stunning edited photos with the VSCO community. Though some users face technical issues with uploading & sharing photos.
VSCO It is available for Windows, Android & iOS.
 It starts at $19.99 per year. They offer a 7days free trial so that you have a chance to experience yourself.
3. Lightroom:
This is a powerful, flexible photo editor loved & used by many Instagram marketers & users. The app is easy to use & has simple editing tools. It provides some free presets. The most amazing part is the influx of influencers selling their own presets.
Lightroom is free. Available for Windows, Android & iOS. If you want premium features starting at $9.99/month. 
4. Layout
Layout is Instagram's own photo editing app. You can take a photo & edit it with the ultimate aim of creating collages. It allows personalized layout & collages, instant share on Instagram, edit using Instagram tools.
It is free for iOS & Android.
5. Square Size
Photos need to be square when you are going to share them on Instagram. To re-size Instagram stories this apps works perfectly. It allows adding borders, layers, filters, typography, shapes & overlays. It also provides add backgrounds, sharing on social with a single tab.
It is free & available for iOS only.
Apps For Instagram To Automate Your Post-publishing
Top brands post on Instagram 5times on average per week that take several hours. For saving valuable time many managers need scheduling tools that help them to load the content serially & post automatically.
Later:  It's specially created for Instagram. It cost $49/month, a web-based secured app.
Buffer:  It cost $399/month, available as web, iOS & Android app.
Sprout Social:  It cost $99-$200/month for a single user, available as web, iOS & Android app.
Hootsuite:  It cost $129/month for 3 users, available as web, iOS & Android app.
Plann:  Single user is free, robust plan costing &12, available iOS & android app.
Apps For Instagram To Fuel Analytics:
If you are only focused to edit & posting but not analysis how they perform, you are missing out on a huge opportunity to optimize your Instagram performance. Each day there are 4.2 billion likes on Instagram posts. So, analytics are very important.
1. Iconosquare:  Instagram analytics app, web app, starts at $29/monthly.
2. Hootsuite Analytics:  Price &129/month, available web, iOS & Android.
3. Command:  It is basically a dashboard. The basic feature is free. For advanced analytics need a paid account cost $10/month, available iOS.
Photo editing for Instagram needs dedication, passion & hard work. Here I give the amazing apps & tricks to make your journey easy & smooth. You can try & apply it to the Instagram business account that will be beneficial for you. 
Author Bio: This article contributed by Salim Ahmed and he is the founder of Clipping Path Center Inc. an offshore graphic house for Image Clipping Path Services. Besides, he is a Photographer and  Blogger. He likes to share tips and tricks on photography, photo editing, and graphic design!