Recently updated on October 25th, 2022 at 11:02 am
Ergonomics and functionality are two key components of any kitchen design.
However, every kitchen deserves an additional 'wow factor' to uplift the overall visual appeal. Every individual has different desires and requirements to get this done. Some homeowners may prefer lighting, while others can make use of accent walls, luxurious stones, and tile backsplashes.
On the other hand, an island is another great option that's gaining huge popularity among homeowners. A black island along with a custom–made kitchen counter is a fascinating addition that promises to quickly amplify your existing white kitchen's ambiance.   
When it comes to deciding on a countertop for your black kitchen island, there are plenty of countertop materials and designs to choose from, including engineered quartz. Since a countertop is a significant expense, you should always opt for a renowned brand like Caesarstone which specializes in unique countertop trends.  
Today's guide and inspirations regarding a modern white kitchen with a black island will help you make an informed decision.   
Key points for creating an elegant white kitchen with a black island  
1. Choose a style  
Style is the most significant point when it comes to designing a kitchen. Here we are referring to the style of kitchen island as per the overall theme of your kitchen. When it comes to white kitchens, a black island is instantly striking and creates a grand impact on your kitchen's style. You should consider the size of the island to achieve maximum functionality.  
2. Anchoring the kitchen space   
The black island can do much more than just amplify the look of the space. In a white kitchen where there is plenty of natural light, you can utilize an appropriately sized and shaped black island to anchor the kitchen space gracefully without too much effort. Also, it puts all different elements together to give your kitchen a more curated and striking look.
Moreover, a black island can be one central element around which you can revamp your entire white kitchen.   
3. Colour combinations and impact  
Black as a color creates a rich and elegant feel in the kitchen. When you have a white kitchen, a black island is going to add a rich look to it.
However, there are different ways to introduce a pop of color to the kitchen with textures and other elements to highlight the island. Be it in the contemporary black island with a contrasting countertop or minimalist chairs and cushions with a pop of color.  
4. Functionality  
Keep in mind the functional aspect of your black island as you focus on its pattern, material, symmetry with other elements, etc. It's recommended to consider the size of your kitchen space and the dimensions of the island it can accommodate. If you try to fit a bigger island in a small space, it will affect the functionality.   
White kitchen black island modern design ideas  
A white kitchen with a black island features a splendid architectural design with lots of functionality. If you are planning to revamp your kitchen and are falling short on design inspirations, then this post is for you. Here, we will share some awe-inspiring ideas that are sure to help you create a modern white kitchen with a black island.  
1. Bold elements with black island  
The eclectic blend of white textured cabinets, black island, multi-hued backsplash, and pendant lights can accentuate the overall vibes of your white kitchen. Backsplash with hues of gold, brown, black, white, and a pop of yellow can add a striking look to your space.   
2. Fusion of brass and black  
If you have white cabinets and backsplash with printed tiles, you can further enhance it with brass and black. The fusion of black island with a classic brass accent is perfect for giving your white kitchen a luxurious touch. To achieve this, you can go for the black island and brass knobs, handles, chair structure, etc.
3. Embrace the black island  
A black countertop with a black kitchen island is a rarefied sight, but it can look stunning in a white kitchen. However, you can break the monotony with silver or gold-toned globe pendant lighting.   
4. Black subway tiles  
If you want to add other dark elements to compliment the black island in your white kitchen, then upgrading to the black subway tile backsplash will be a good choice. This backsplash will weave all the black and white elements together and provide your kitchen with a more designer and cohesive look. Further, you can opt for leather barstools in white color to beautify the island.  
5. Luxe textures  
If you want to create luxe vibes in your kitchen, then nothing is better than textures. You can opt for textured vinyl on cabinets, backsplashes, or island countertops to introduce texture.   
Another interesting option is to combine the hardware-less, all-white overhead kitchen cabinets with black textured vinyl-covered base cabinets to create a perfect balance of black and white in your kitchen. One of the best things about vinyl is its reasonable cost, which means you can add texture without spending a lot of money!   
6. Two-tiered island  
A two-tiered kitchen island is a great way to introduce heights for different purposes. For instance, the first tier can be used as the kitchen bar and the second as chopping space. Usually, these islands are installed in an L shape.   
7. Irregularly-shaped black kitchen island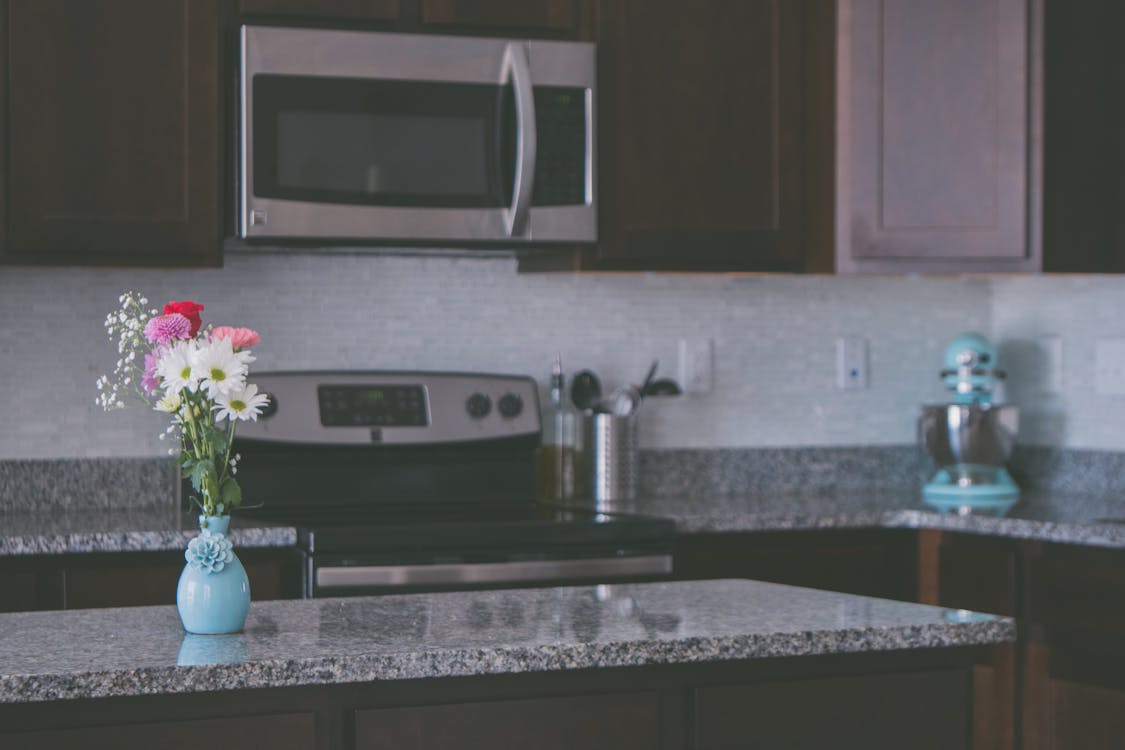 In order to add a unique appeal to your kitchen, you can go for an asymmetrical black island in your white kitchen. Such islands help you save money because asymmetrical remnants of quartz, limestone, granite, and marble are usually available at lower prices.   
8. Warm woven details  
A modern white kitchen with a black island looks sophisticated and classy, but you can add little warmth to it with natural textured detailing. You can go for woven bar stools and wooden flooring for extra coziness.  
Takeaway – Modern white kitchen with black island ideas that work
A white kitchen looks classic and crisp, but too much white can make your cooking space feel boring and clinical. Therefore, homeowners are opting for black islands with their white kitchens to introduce a unique, super luxurious feel to their space. Not only will a black island introduce beauty to your space, but it will also make your space more functional.
If you want to go for a black island, our ideas shared above will surely inspire you to revamp your white kitchen and make it more inviting.