Recently updated on October 25th, 2022 at 12:09 pm
The very concept of technology is a term that consists of progress in all the different forms and formats. For instance, it could be seen through the advancement of tools and materials used in a particular industry but it could also represent a shift in trends and productivity traits. When it comes to the perspective of an average business, the technology is often used in order for one business to gain a competitive edge over their closest competitors. With that in mind and without further ado, here's how a business should track the evolution of technology that's closely related to their field.
1. Pros and cons
The first thing you need to understand about technology is the fact that while our society or even our entire species wouldn't be here without it how technology trends make our lives easier, the truth is that it has both positive and negative sides. On the positive side, it can improve your efficiency and save a tremendous amount of time. What this means is that your team can now do more with the same resources and within the same time frame.
It also means that you can have the same results with a tad smaller team. Other than this, technology improves communication and helps you stay competitive and no one can deny how technology improves our health. 
Unfortunately, there's a negative side to reliance on technology, as well. First of all, it creates extreme dependability. For instance, running an e-commerce business is much more cost-effective than running a brick and mortar establishment. However, what happens when the server goes down unexpectedly. Second, the progress of technology can reduce the demand for the human workforce. Also, when relying on a machine, a malfunction can become something that only a professional may fix and this may take a while. In other words, like anything good in life, this too is a double-edged blade.
2. The revolution of business
In any field, there's always a bunch of traditionalists who prophesier that technological advancement will bring the end to the world as we know it. The reason behind this is fairly simple – they like the way things are at the moment and are afraid of being dethroned if anything changes. For instance, when Amazon decided to spend $775 million in order to acquire Kiva Systems and make their warehouses run by robots, the majority of people saw this as a bad idea. Nowadays, everyone can see the brilliance behind this move.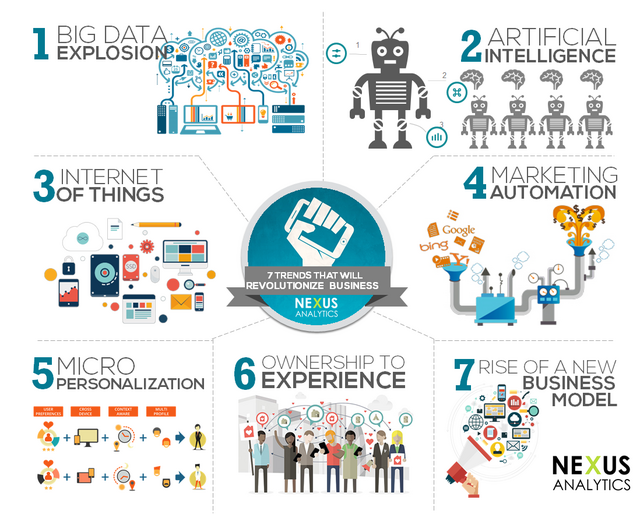 Image Source: medium.com
A similar thing happens in the majority of other industries. For instance, the manufacturing industry, as well as various other fields depend on the precision in raw material production. For instance, an advancement and sophistication in sheet metal folding can bring a major upset to various industries, such as automotive, weapons industry or the construction industry. What the industry gains from this is accuracy, time-efficiency and more.
3. The progression over the course of time
Like anything else, technology takes time to properly advance and develop. Naturally, this has a major impact on the business world. As Bill Gates, a veteran of both technological development and the business world, once proclaimed, it is expected that the business world will change more in the following 10 years than it did in the previous 50. The further we get from this statement, the more apparent the wisdom behind these words becomes.
You see, Isaac Newton once said that he was but a dwarf who stood on the shoulders of giants in order to see further than other men. In his mind, these giants were his predecessors like Galileo and other scientists and inventors. A similar thing happens today, as well. Every invention starts a chain of new inventions that are based on the previous one. This way, the progress becomes both inevitable and self-sustainable.
4. The Evolution of Technology Timeline
Technology and science do not progress accidentally. They follow a logical way and by each new discovery takes one step ahead. There are different timelines you could find over the internet but I tend to introduce a more general one, the timeline of technology evolution.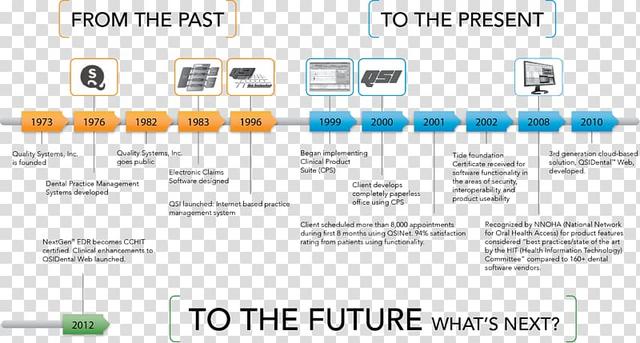 It begins from 3.3 million years ago with the introduction of the first tools. They were made of stone mostly. With the introduction of fire around 1 to 1.5 million years ago, Homo sapiens and Homo erects took a big step towards technology evolution.
"Neolithic Revolution" plays an important role here, several key technologies such as agriculture, pottery, use of woven fabrics for clothing and wheels are arisen in this era.
Some of the main technology turning points are 6000 BCE Irrigation, 4000 BCE Sailing, 1200 BCE Iron, 850 CE: Gunpowder, 950: Windmills, 1044: Compass and 1250-1300: Mechanical clock. Then there's the explosion of information caused by Printing in 1455. Johannes Gutenberg completed the printing of the Bible. During 1765-1885; Steam Engines, Railways, Steamboats, Photography, Electric Lights and Automobiles are introduced.
As you see technology is not evolved in one night. I can name such technologies over and over but I will go to a very important point which is Artificial Intelligence. The term was first used in 1951. The evolution of Artificial Intelligence is forming our future lives, just think about how AI is transforming mobile apps and there has been a lot of technological advancements in the world of health and fitness as well. Check out this article to learn more about the evolution of technology in the fitness industry from simple calculators to completely aware assistants.
In conclusion
As you can see, the evolution of technology leaves no stone upturned. Regardless if you consider this trend to be positive or negative, embracing a new trend is usually not a mandatory thing. Why? Well, just because you refuse to embrace the progress this doesn't mean that your competitors will do the same. Also, if there's a simpler, cheaper, cleaner and safer way for you to do something, it's both reckless and unwise to ignore it for long. All in all, you really don't have too much choice in the matter.
Author Bio: This article contributed by Zac Walker . He is both a teacher and a student. His passions are teaching and researching. He's also eager when it comes to learning new stuff. Has done some cooperation writing a series of English Learning books. His motto in life is: "Discipline, commitment and attitude will lead you to the peak of success and reputation." The books he loves are: "The Magic of Thinking Big" by Dr. David Joseph Schwartz and "The Art of Negotiation" by Michael Wheeler